Lockheed Martin (NYSE:LMT) will be issuing its quarterly earnings data before the market opens on Monday, January 29th. Analysts expect the company to announce earnings of $3.70 per share for the quarter.
Lockheed Martin (NYSE:LMT) last announced its quarterly earnings results on Tuesday, October 24th. The aerospace company reported $3.24 EPS for the quarter, missing the Zacks' consensus estimate of $3.26 by ($0.02). The company had revenue of $12.17 billion during the quarter, compared to analysts' expectations of $12.83 billion. Lockheed Martin had a return on equity of 221.41% and a net margin of 7.31%. Lockheed Martin's revenue for the quarter was up 5.4% on a year-over-year basis. During the same period last year, the firm earned $3.61 earnings per share. On average, analysts expect Lockheed Martin to post $13 EPS for the current fiscal year and $14 EPS for the next fiscal year.
Lockheed Martin (NYSE:LMT) opened at $332.00 on Monday. The company has a debt-to-equity ratio of 6.56, a current ratio of 1.32 and a quick ratio of 0.95. The company has a market capitalization of $95,200.00, a P/E ratio of 26.93, a price-to-earnings-growth ratio of 3.26 and a beta of 0.58. Lockheed Martin has a 12 month low of $248.00 and a 12 month high of $336.67.
Lockheed Martin declared that its Board of Directors has approved a share buyback program on Thursday, September 28th that authorizes the company to repurchase $2.00 billion in outstanding shares. This repurchase authorization authorizes the aerospace company to purchase up to 2.3% of its shares through open market purchases. Shares repurchase programs are often a sign that the company's board of directors believes its shares are undervalued.
In other news, Director Daniel F. Akerson purchased 2,500 shares of the company's stock in a transaction that occurred on Wednesday, October 25th. The shares were bought at an average cost of $312.02 per share, for a total transaction of $780,050.00. Following the completion of the transaction, the director now directly owns 7,432 shares of the company's stock, valued at approximately $2,318,932.64. The acquisition was disclosed in a legal filing with the Securities & Exchange Commission, which is accessible through the SEC website. Also, insider Dale P. Bennett sold 2,000 shares of Lockheed Martin stock in a transaction that occurred on Monday, December 4th. The shares were sold at an average price of $313.75, for a total value of $627,500.00. The disclosure for this sale can be found here. 0.39% of the stock is currently owned by company insiders.
LMT has been the topic of a number of analyst reports. Zacks Investment Research cut Lockheed Martin from a "hold" rating to a "sell" rating in a research note on Wednesday, October 4th. Royal Bank of Canada set a $314.00 price objective on Lockheed Martin and gave the stock a "hold" rating in a research report on Wednesday, November 15th. Vetr lowered Lockheed Martin from a "buy" rating to a "hold" rating and set a $332.40 price objective on the stock. in a research report on Thursday, January 4th. Credit Suisse Group reiterated a "neutral" rating on shares of Lockheed Martin in a research report on Friday. Finally, Deutsche Bank reiterated a "buy" rating and issued a $340.00 price objective (up from $305.00) on shares of Lockheed Martin in a research report on Monday, October 2nd. Six investment analysts have rated the stock with a hold rating and nine have given a buy rating to the stock. The company currently has an average rating of "Buy" and an average target price of $330.42.
ILLEGAL ACTIVITY WARNING: This article was first posted by American Banking News and is the sole property of of American Banking News. If you are reading this article on another domain, it was stolen and reposted in violation of US and international copyright & trademark law. The legal version of this article can be read at https://www.americanbankingnews.com/2018/01/22/lockheed-martin-lmt-set-to-announce-quarterly-earnings-on-monday.html.
Lockheed Martin Company Profile
Lockheed Martin Corporation is a security and aerospace company. The Company operates through four segments. Aeronautics segment is engaged in the research, design, development, manufacture, integration, sustainment, support and upgrade of military aircraft, including combat and air mobility aircraft, unmanned air vehicles and related technologies.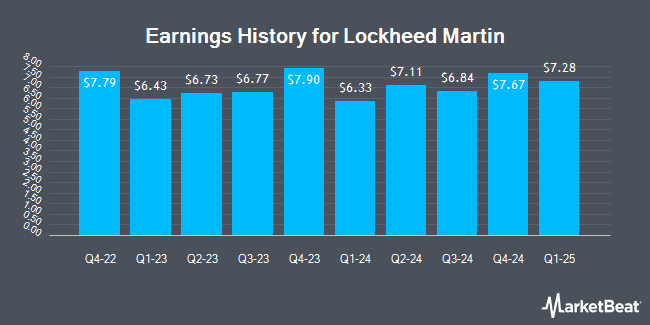 Receive News & Ratings for Lockheed Martin Daily - Enter your email address below to receive a concise daily summary of the latest news and analysts' ratings for Lockheed Martin and related companies with MarketBeat.com's FREE daily email newsletter.