Prudential Bancorp (NASDAQ:PBIP) will be issuing its quarterly earnings data after the market closes on Monday, January 29th.
Prudential Bancorp (NASDAQ:PBIP) last released its quarterly earnings results on Tuesday, November 14th. The savings and loans company reported $0.22 earnings per share (EPS) for the quarter.
Prudential Bancorp (NASDAQ PBIP) opened at $18.05 on Monday. Prudential Bancorp has a 52 week low of $15.81 and a 52 week high of $18.96. The firm has a market capitalization of $162.12 and a PE ratio of 58.23.
An institutional investor recently bought a new position in Prudential Bancorp stock. California State Teachers Retirement System purchased a new stake in Prudential Bancorp Inc (NASDAQ:PBIP) in the second quarter, according to the company in its most recent filing with the Securities and Exchange Commission. The firm purchased 14,400 shares of the savings and loans company's stock, valued at approximately $262,000. California State Teachers Retirement System owned 0.17% of Prudential Bancorp as of its most recent SEC filing. Hedge funds and other institutional investors own 36.88% of the company's stock.
COPYRIGHT VIOLATION NOTICE: This piece was first published by American Banking News and is owned by of American Banking News. If you are accessing this piece on another website, it was stolen and reposted in violation of international copyright & trademark legislation. The correct version of this piece can be read at https://www.americanbankingnews.com/2018/01/22/prudential-bancorp-pbip-to-release-quarterly-earnings-on-monday.html.
Prudential Bancorp Company Profile
Prudential Bancorp, Inc of Pennsylvania is a mid-tier holding company for Prudential Savings Bank (the Bank). The Bank is a wholly owned subsidiary of the Company. Prudential Mutual Holding Company, a Pennsylvania corporation, is the mutual holding company parent of the Company. As of September 30, 2012, Prudential Mutual Holding Company owns 74.6% of the Company.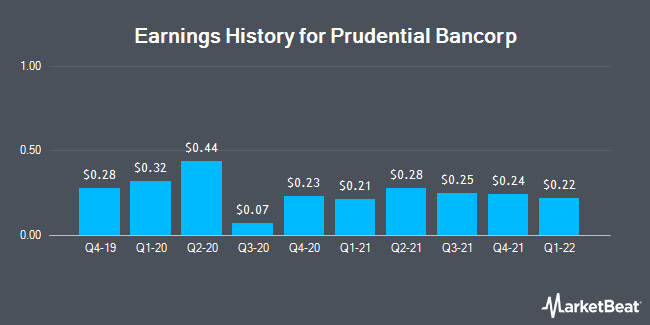 Receive News & Ratings for Prudential Bancorp Daily - Enter your email address below to receive a concise daily summary of the latest news and analysts' ratings for Prudential Bancorp and related companies with MarketBeat.com's FREE daily email newsletter.