Ralph Lauren (NYSE:RL) was upgraded by Zacks Investment Research from a "sell" rating to a "hold" rating in a report issued on Monday.
According to Zacks, "Ralph Lauren outperformed the industry in the past three months. Second-quarter fiscal 2018 marked the company's 11th consecutive earnings beat and sales topped estimates after two consecutive misses. However, the company's North America business continues to suffer due to distribution and brand exits; planned reduction in shipments and promotions to enhance the quality of sales; and lower customer demand. Revenues at the North America segment slumped 16% in the second quarter owing to lower retail and wholesale sales. Additionally, high dependence on outside suppliers poses threats. Nonetheless, the company adjusted its fiscal 2018 guidance to account for the recent positive movements in foreign currency rates, which will aid revenue and operating margins in fiscal 2018. The company remains on track to deliver its goals under its Way Forward Plan, which bodes well. Estimates have been going up ahead of the third-quarter earnings."
Several other analysts also recently issued reports on RL. ValuEngine upgraded Ralph Lauren from a "hold" rating to a "buy" rating in a research note on Friday, December 1st. Bank of America downgraded Ralph Lauren from a "neutral" rating to an "underperform" rating and reduced their price target for the company from $100.14 to $80.00 in a research note on Wednesday, December 13th. Royal Bank of Canada restated a "hold" rating and issued a $88.00 price target on shares of Ralph Lauren in a research note on Thursday, October 5th. Cowen set a $97.00 price target on Ralph Lauren and gave the company a "hold" rating in a research note on Wednesday, November 1st. Finally, Barclays boosted their price target on Ralph Lauren from $84.00 to $87.00 and gave the company an "underweight" rating in a research note on Monday, November 6th. Five investment analysts have rated the stock with a sell rating, eleven have given a hold rating, seven have issued a buy rating and one has issued a strong buy rating to the stock. The company has an average rating of "Hold" and an average target price of $88.66.
Shares of Ralph Lauren (
NYSE RL
) traded up $2.11 during midday trading on Monday, hitting $114.89. The stock had a trading volume of 1,499,550 shares, compared to its average volume of 1,105,664. The company has a debt-to-equity ratio of 0.08, a current ratio of 2.09 and a quick ratio of 1.55. Ralph Lauren has a one year low of $66.06 and a one year high of $115.32. The company has a market cap of $9,340.00, a P/E ratio of 119.68, a P/E/G ratio of 2.28 and a beta of 0.65.
Ralph Lauren (NYSE:RL) last issued its earnings results on Thursday, November 2nd. The textile maker reported $1.99 EPS for the quarter, topping the Thomson Reuters' consensus estimate of $1.90 by $0.09. Ralph Lauren had a return on equity of 14.06% and a net margin of 1.29%. The company had revenue of $1.66 billion during the quarter, compared to the consensus estimate of $1.64 billion. During the same period in the previous year, the company posted $1.90 EPS. The firm's revenue for the quarter was down 8.6% compared to the same quarter last year. equities analysts predict that Ralph Lauren will post 5.61 EPS for the current fiscal year.
In other Ralph Lauren news, insider Valerie Hermann sold 2,400 shares of Ralph Lauren stock in a transaction on Friday, November 3rd. The stock was sold at an average price of $91.22, for a total value of $218,928.00. Following the completion of the transaction, the insider now directly owns 35,028 shares of the company's stock, valued at approximately $3,195,254.16. The sale was disclosed in a legal filing with the Securities & Exchange Commission, which is available through this hyperlink. 32.93% of the stock is owned by insiders.
Hedge funds and other institutional investors have recently made changes to their positions in the business. Meiji Yasuda Asset Management Co Ltd. acquired a new position in Ralph Lauren in the 3rd quarter valued at $205,000. BRITISH COLUMBIA INVESTMENT MANAGEMENT Corp acquired a new position in shares of Ralph Lauren during the 3rd quarter worth $209,000. Parametrica Management Ltd acquired a new position in shares of Ralph Lauren during the 3rd quarter worth $263,000. TLP Group LLC raised its holdings in shares of Ralph Lauren by 5,614.8% during the 2nd quarter. TLP Group LLC now owns 3,486 shares of the textile maker's stock worth $257,000 after buying an additional 3,425 shares in the last quarter. Finally, Handelsbanken Fonder AB acquired a new position in shares of Ralph Lauren during the 3rd quarter worth $309,000. 66.59% of the stock is owned by hedge funds and other institutional investors.
WARNING: This piece was originally reported by American Banking News and is the sole property of of American Banking News. If you are accessing this piece on another publication, it was copied illegally and reposted in violation of international copyright & trademark legislation. The legal version of this piece can be viewed at https://www.americanbankingnews.com/2018/01/22/ralph-lauren-rl-upgraded-by-zacks-investment-research-to-hold.html.
Ralph Lauren Company Profile
Ralph Lauren Corporation is engaged in the design, marketing and distribution of lifestyle products, including apparel, accessories, home furnishings and other licensed product categories. The Company operates through three segments: Wholesale, Retail and Licensing. Wholesale business consists of sales made to department stores and specialty stores around the world.
Get a free copy of the Zacks research report on Ralph Lauren (RL)
For more information about research offerings from Zacks Investment Research, visit Zacks.com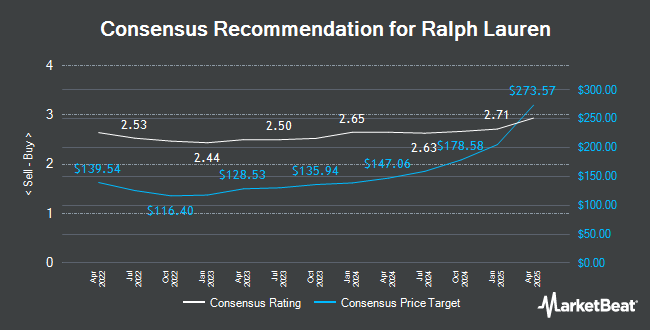 Receive News & Ratings for Ralph Lauren Daily - Enter your email address below to receive a concise daily summary of the latest news and analysts' ratings for Ralph Lauren and related companies with MarketBeat.com's FREE daily email newsletter.