Simon Property Group (NYSE:SPG) is scheduled to be posting its quarterly earnings results before the market opens on Monday, January 29th. Analysts expect Simon Property Group to post earnings of $1.82 per share for the quarter. Simon Property Group has set its FY17 guidance at $11.17-11.22 EPS.
Simon Property Group (NYSE:SPG) last issued its quarterly earnings results on Friday, October 27th. The real estate investment trust reported $2.89 earnings per share (EPS) for the quarter, beating the consensus estimate of $2.88 by $0.01. Simon Property Group had a return on equity of 41.85% and a net margin of 31.96%. The business had revenue of $1.40 billion for the quarter, compared to analyst estimates of $1.39 billion. During the same quarter in the prior year, the firm posted $2.70 earnings per share. The firm's revenue for the quarter was up 3.4% compared to the same quarter last year. On average, analysts expect Simon Property Group to post $11 EPS for the current fiscal year and $12 EPS for the next fiscal year.
Simon Property Group (SPG) opened at $164.24 on Monday. The company has a debt-to-equity ratio of 5.57, a quick ratio of 0.93 and a current ratio of 0.93. Simon Property Group has a one year low of $150.15 and a one year high of $187.35. The stock has a market capitalization of $52,550.00, a price-to-earnings ratio of 29.02, a PEG ratio of 2.05 and a beta of 0.62.
In related news, CAO Steven K. Broadwater sold 621 shares of the company's stock in a transaction dated Saturday, December 29th. The stock was sold at an average price of $171.95, for a total value of $106,780.95. Following the completion of the sale, the chief accounting officer now owns 2,290 shares in the company, valued at $393,765.50. The transaction was disclosed in a filing with the Securities & Exchange Commission, which is available at
the SEC website
. Corporate insiders own 8.42% of the company's stock.
Several equities analysts have recently issued reports on the company. Zacks Investment Research lowered Simon Property Group from a "hold" rating to a "sell" rating in a research note on Wednesday, January 10th. Stifel Nicolaus reiterated a "hold" rating and issued a $170.00 price objective on shares of Simon Property Group in a report on Thursday, October 12th. Raymond James Financial set a $185.00 price objective on Simon Property Group and gave the company a "buy" rating in a report on Sunday, December 3rd. Argus dropped their price objective on Simon Property Group from $200.00 to $195.00 and set a "buy" rating for the company in a report on Tuesday, October 31st. Finally, Boenning Scattergood set a $240.00 price objective on Simon Property Group and gave the company a "buy" rating in a report on Monday, October 30th. One research analyst has rated the stock with a sell rating, seven have given a hold rating and thirteen have given a buy rating to the stock. The stock has an average rating of "Buy" and a consensus price target of $191.11.
ILLEGAL ACTIVITY NOTICE: "Simon Property Group (SPG) to Release Earnings on Monday" was reported by American Banking News and is the sole property of of American Banking News. If you are reading this report on another domain, it was illegally copied and republished in violation of U.S. and international copyright & trademark legislation. The correct version of this report can be read at https://www.americanbankingnews.com/2018/01/22/simon-property-group-spg-to-release-earnings-on-monday.html.
About Simon Property Group
Simon Property Group, Inc is a self-administered and self-managed real estate investment trust (REIT). The Company owns, develops and manages retail real estate properties, which consist primarily of malls, Premium Outlets and The Mills. Simon Property Group, L.P. (Operating Partnership), is the Company's partnership subsidiary that owns all of its real estate properties and other assets.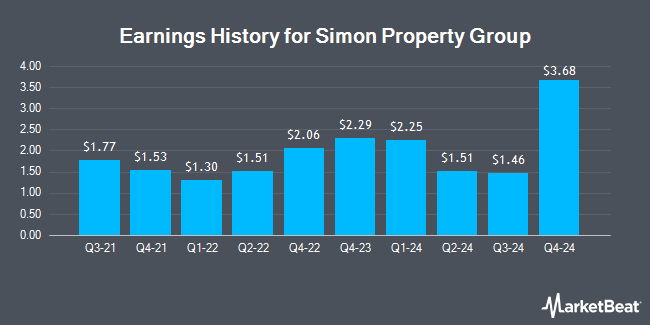 Receive News & Ratings for Simon Property Group Daily - Enter your email address below to receive a concise daily summary of the latest news and analysts' ratings for Simon Property Group and related companies with MarketBeat.com's FREE daily email newsletter.