Stornoway Diamond (TSE:SWY) had its price target dropped by equities research analysts at BMO Capital Markets from C$0.80 to C$0.60 in a report issued on Monday. The firm currently has a "market perform" rating on the stock. BMO Capital Markets' price objective would indicate a potential downside of 6.25% from the stock's previous close.
Several other analysts have also recently commented on SWY. Royal Bank of Canada cut shares of Stornoway Diamond from a "sector perform" rating to an "underperform" rating and decreased their price target for the stock from C$0.90 to C$0.60 in a report on Thursday, October 12th. TD Securities reduced their target price on shares of Stornoway Diamond from C$0.85 to C$0.80 and set a "hold" rating for the company in a research note on Monday, November 6th. One research analyst has rated the stock with a sell rating, two have given a hold rating and two have assigned a buy rating to the company's stock. Stornoway Diamond has a consensus rating of "Hold" and a consensus target price of C$0.97.
Stornoway Diamond (TSE:SWY) traded up C$0.02 during mid-day trading on Monday, hitting C$0.64. 187,416 shares of the company traded hands, compared to its average volume of 216,074. The firm has a market capitalization of $534.57, a PE ratio of 10.67 and a beta of 1.19. Stornoway Diamond has a twelve month low of C$0.60 and a twelve month high of C$0.99.
In other Stornoway Diamond news, Director Patrick Godin bought 61,500 shares of Stornoway Diamond stock in a transaction on Monday, November 27th. The stock was purchased at an average cost of C$0.70 per share, for a total transaction of C$43,050.00. Insiders acquired 91,500 shares of company stock valued at $62,450 over the last quarter.
COPYRIGHT VIOLATION WARNING: This piece of content was reported by American Banking News and is the property of of American Banking News. If you are accessing this piece of content on another website, it was copied illegally and republished in violation of United States & international copyright legislation. The legal version of this piece of content can be read at https://www.americanbankingnews.com/2018/01/22/stornoway-diamond-swy-price-target-cut-to-c0-60.html.
Stornoway Diamond Company Profile
Stornoway Diamond Corp is a Canada-based diamond exploration and development company. The Company is principally engaged in the acquisition, exploration and development of diamond properties. The Company's principal focus is its Renard Diamond Project located in north-central Quebec, a project in construction.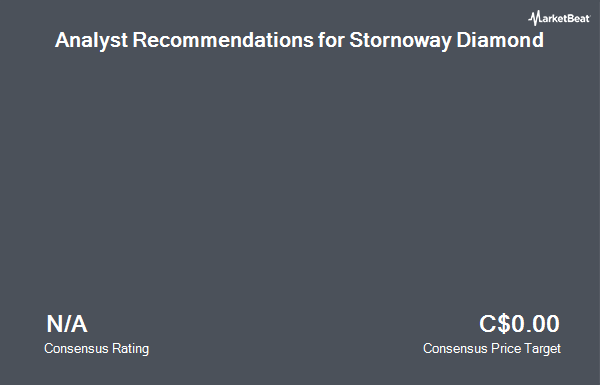 Receive News & Ratings for Stornoway Diamond Daily - Enter your email address below to receive a concise daily summary of the latest news and analysts' ratings for Stornoway Diamond and related companies with MarketBeat.com's FREE daily email newsletter.