Value Line, Inc. (NASDAQ:VALU) declared a special dividend on Monday, January 22nd, Wall Street Journal reports. Investors of record on Friday, February 23rd will be given a dividend of 0.20 per share by the financial services provider on Friday, March 9th. This represents a yield of 3.74%. The ex-dividend date of this dividend is Thursday, February 22nd.
Value Line (VALU) traded down $0.34 during midday trading on Monday, reaching $19.26. 7,490 shares of the company traded hands, compared to its average volume of 1,308. Value Line has a 52-week low of $13.26 and a 52-week high of $20.00. The stock has a market capitalization of $192.07, a PE ratio of 27.51 and a beta of 0.81.
Value Line (NASDAQ:VALU) last issued its earnings results on Monday, December 11th. The financial services provider reported $0.21 earnings per share for the quarter. Value Line had a net margin of 19.31% and a return on equity of 17.78%. The company had revenue of $8.99 million for the quarter.
Separately, TheStreet upgraded shares of Value Line from a "c+" rating to a "b" rating in a research report on Friday, December 29th.
COPYRIGHT VIOLATION NOTICE: This report was published by American Banking News and is the sole property of of American Banking News. If you are accessing this report on another domain, it was stolen and reposted in violation of U.S. and international copyright and trademark laws. The correct version of this report can be accessed at https://www.americanbankingnews.com/2018/01/22/value-line-inc-valu-to-issue-0-20-special-dividend.html.
About Value Line
Value Line, Inc (Value Line) is engaged in producing investment periodicals based on underlying research and making available copyright data, including ranking system and other information, to third parties for use in third-party managed and marketed investment products and for other purposes. The Company markets under brands, including Value Line, the Value Line logo, The Value Line Investment Survey, Smart Research, Smarter Investing and The Most Trusted Name in Investment Research.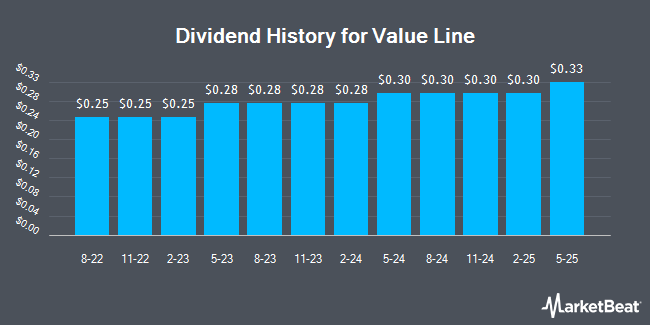 Receive News & Ratings for Value Line Daily - Enter your email address below to receive a concise daily summary of the latest news and analysts' ratings for Value Line and related companies with MarketBeat.com's FREE daily email newsletter.