Hubbell (NYSE:HUBB) is scheduled to be issuing its quarterly earnings data before the market opens on Tuesday, January 30th. Analysts expect the company to announce earnings of $1.42 per share for the quarter.
Hubbell (NYSE:HUBB) last issued its quarterly earnings results on Tuesday, October 24th. The industrial products company reported $1.65 earnings per share for the quarter, topping the Thomson Reuters' consensus estimate of $1.50 by $0.15. Hubbell had a net margin of 7.96% and a return on equity of 19.69%. The company had revenue of $950.50 million for the quarter, compared to the consensus estimate of $960.28 million. During the same quarter in the prior year, the company earned $1.63 EPS. Hubbell's quarterly revenue was up 4.7% on a year-over-year basis. On average, analysts expect Hubbell to post $5 EPS for the current fiscal year and $6 EPS for the next fiscal year.
Hubbell (NYSE HUBB) opened at $138.56 on Tuesday. Hubbell has a fifty-two week low of $109.32 and a fifty-two week high of $141.67. The company has a debt-to-equity ratio of 0.59, a current ratio of 2.28 and a quick ratio of 1.43. The firm has a market cap of $7,580.00 and a P/E ratio of 26.75.
Hubbell declared that its Board of Directors has authorized a stock buyback program on Friday, October 20th that allows the company to repurchase $400.00 million in outstanding shares. This repurchase authorization allows the industrial products company to buy shares of its stock through open market purchases. Stock repurchase programs are generally an indication that the company's management believes its shares are undervalued.
A number of equities research analysts have recently commented on the stock. BidaskClub cut shares of Hubbell from a "buy" rating to a "hold" rating in a research note on Tuesday, November 7th. Zacks Investment Research raised shares of Hubbell from a "hold" rating to a "buy" rating and set a $152.00 price objective on the stock in a research note on Tuesday, January 16th. JPMorgan Chase & Co. raised shares of Hubbell from a "neutral" rating to an "overweight" rating in a research note on Thursday, January 18th. Wells Fargo & Co reaffirmed a "buy" rating and set a $143.00 price objective (up previously from $136.00) on shares of Hubbell in a research note on Wednesday, December 20th. Finally, Oppenheimer raised shares of Hubbell from a "market perform" rating to an "outperform" rating and set a $160.00 price objective on the stock in a research note on Friday, January 12th. Four equities research analysts have rated the stock with a hold rating and five have assigned a buy rating to the company's stock. Hubbell currently has a consensus rating of "Buy" and an average price target of $140.40.
In other news, insider Gerben Bakker sold 590 shares of the firm's stock in a transaction that occurred on Monday, October 30th. The shares were sold at an average price of $125.34, for a total transaction of $73,950.60. Following the sale, the insider now owns 13,249 shares of the company's stock, valued at approximately $1,660,629.66. The sale was disclosed in a filing with the Securities & Exchange Commission, which is available through the SEC website. 1.28% of the stock is owned by company insiders.
COPYRIGHT VIOLATION NOTICE: This piece was posted by American Banking News and is the sole property of of American Banking News. If you are viewing this piece on another domain, it was stolen and reposted in violation of international trademark & copyright laws. The correct version of this piece can be viewed at https://www.americanbankingnews.com/2018/01/23/hubbell-hubb-scheduled-to-post-quarterly-earnings-on-tuesday.html.
About Hubbell
Hubbell Incorporated is engaged in the design, manufacture and sale of electrical and electronic products for a range of non-residential and residential construction, industrial and utility applications. The Company's segments include Electrical and the Power. The Electrical segment consists of businesses that sell stock and custom products, including standard and special application wiring device products, rough-in electrical products, lighting fixtures and controls, components and assemblies for the natural gas distribution market, as well as other electrical equipment.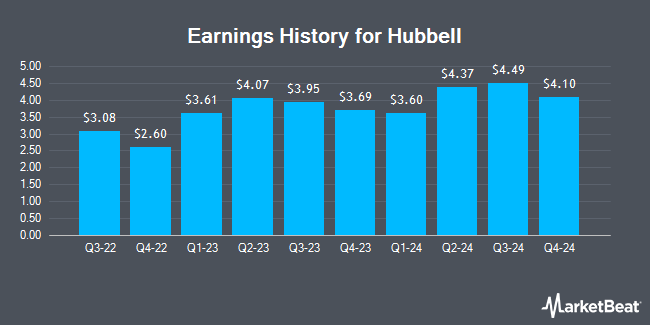 Receive News & Ratings for Hubbell Daily - Enter your email address below to receive a concise daily summary of the latest news and analysts' ratings for Hubbell and related companies with MarketBeat.com's FREE daily email newsletter.