Shares of Ted Baker plc (LON:TED) have earned a consensus recommendation of "Buy" from the seven ratings firms that are covering the firm, Marketbeat Ratings reports. Two investment analysts have rated the stock with a hold rating and five have assigned a buy rating to the company. The average 12 month price objective among brokerages that have issued a report on the stock in the last year is GBX 3,002.14 ($40.71).
A number of research firms have recently commented on TED. Liberum Capital reiterated a "buy" rating and issued a GBX 3,300 ($44.75) price objective on shares of Ted Baker in a report on Wednesday, January 17th. Jefferies Group increased their price objective on Ted Baker from GBX 2,900 ($39.33) to GBX 3,100 ($42.04) and gave the company a "buy" rating in a report on Wednesday, October 11th. Peel Hunt reiterated a "hold" rating and issued a GBX 2,750 ($37.29) price objective on shares of Ted Baker in a report on Tuesday, October 10th. Finally, Barclays began coverage on Ted Baker in a report on Wednesday, December 6th. They issued an "equal weight" rating and a GBX 2,700 ($36.62) price objective on the stock.
Ted Baker (LON TED) opened at GBX 2,968 ($40.25) on Tuesday. Ted Baker has a one year low of GBX 2,286 ($31.00) and a one year high of GBX 3,150 ($42.72). The company has a market capitalization of $1,320.00 and a PE ratio of 2,673.87.
In related news, insider Lindsay Dennis Page sold 28,393 shares of the company's stock in a transaction dated Friday, January 12th. The stock was sold at an average price of GBX 3,050 ($41.36), for a total value of £865,986.50 ($1,174,378.22).
WARNING: This article was originally reported by American Banking News and is owned by of American Banking News. If you are accessing this article on another publication, it was illegally copied and republished in violation of US & international copyright & trademark law. The original version of this article can be viewed at https://www.americanbankingnews.com/2018/01/23/ted-baker-plc-ted-receives-average-recommendation-of-buy-from-analysts.html.
About Ted Baker
Ted Baker Plc is a United Kingdom-based global lifestyle company. The Company offers a range of collections, including menswear, womenswear, global, phormal, endurance, accessories, audio, bedding, childrenswear, crockery, eyewear, footwear, fragrance and skinwear, gifting and stationery, jewelry, lingerie and sleepwear, luggage, neckwear, rugs, suiting, technical accessories, tiles and watches.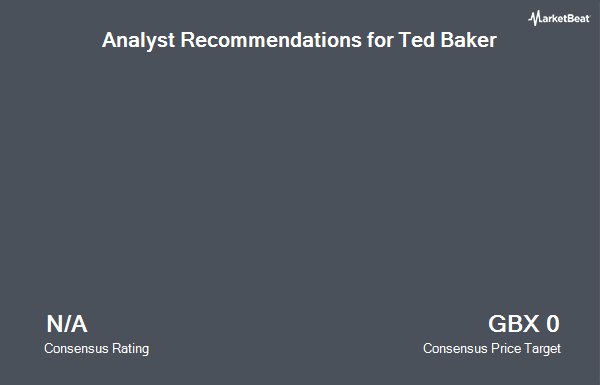 Receive News & Ratings for Ted Baker Daily - Enter your email address below to receive a concise daily summary of the latest news and analysts' ratings for Ted Baker and related companies with MarketBeat.com's FREE daily email newsletter.