Worldpay (NYSE:WP) will announce its earnings results before the market opens on Tuesday, January 30th. Analysts expect the company to announce earnings of $0.95 per share for the quarter. Worldpay has set its Q4 guidance at $0.94-0.96 EPS.
Worldpay (NYSE:WP) last issued its quarterly earnings results on Thursday, October 26th. The business services provider reported $0.90 EPS for the quarter, beating analysts' consensus estimates of $0.89 by $0.01. The company had revenue of $1.03 billion for the quarter, compared to analyst estimates of $551.77 million. Worldpay had a return on equity of 41.19% and a net margin of 6.07%. The company's quarterly revenue was up 13.1% compared to the same quarter last year. During the same period in the previous year, the company posted $0.71 earnings per share. On average, analysts expect Worldpay to post $3 EPS for the current fiscal year and $4 EPS for the next fiscal year.
Shares of Worldpay (WP) opened at $79.74 on Tuesday. The company has a market capitalization of $14,170.00, a PE ratio of 55.38, a PEG ratio of 1.57 and a beta of 0.58. Worldpay has a twelve month low of $59.10 and a twelve month high of $79.79. The company has a quick ratio of 0.72, a current ratio of 0.72 and a debt-to-equity ratio of 7.45.
WP has been the topic of a number of research reports. Credit Suisse Group initiated coverage on Worldpay in a report on Monday. They issued an "outperform" rating on the stock. Cantor Fitzgerald restated a "buy" rating and issued a $74.00 price target on shares of Worldpay in a report on Thursday, October 26th. Mizuho restated a "hold" rating and issued a $80.00 price target on shares of Worldpay in a report on Thursday, January 4th. Deutsche Bank boosted their price target on Worldpay to $82.00 and gave the company a "buy" rating in a report on Monday, December 4th. Finally, Stifel Nicolaus restated a "buy" rating and issued a $85.00 price target on shares of Worldpay in a report on Tuesday, October 24th. Seven analysts have rated the stock with a hold rating, twenty-seven have given a buy rating and one has issued a strong buy rating to the company. The company presently has an average rating of "Buy" and a consensus target price of $82.27.
ILLEGAL ACTIVITY WARNING: This article was reported by American Banking News and is the property of of American Banking News. If you are reading this article on another domain, it was copied illegally and republished in violation of United States and international trademark and copyright law. The correct version of this article can be read at https://www.americanbankingnews.com/2018/01/23/worldpay-wp-scheduled-to-post-quarterly-earnings-on-tuesday.html.
About Worldpay
Worldpay, Inc, formerly Vantiv, Inc, is a holding company. The Company conducts its operations through its subsidiary, Vantiv Holding, LLC. The Company is a payment processor. The Company's segments include Merchant Services and Financial Institution Services. The Company offers a range of payment processing services that enable its clients to meet their payment processing needs through a single provider.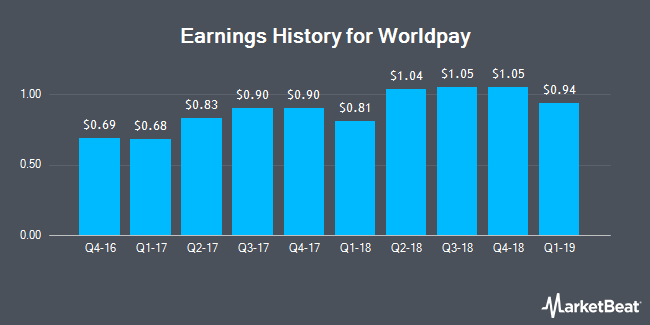 Receive News & Ratings for Worldpay Daily - Enter your email address below to receive a concise daily summary of the latest news and analysts' ratings for Worldpay and related companies with MarketBeat.com's FREE daily email newsletter.