Carpenter Technology (NYSE:CRS) will be releasing its earnings data before the market opens on Wednesday, January 31st. Analysts expect Carpenter Technology to post earnings of $0.50 per share for the quarter.
Carpenter Technology (NYSE:CRS) last announced its quarterly earnings results on Thursday, October 26th. The basic materials company reported $0.49 EPS for the quarter, topping analysts' consensus estimates of $0.44 by $0.05. Carpenter Technology had a return on equity of 6.67% and a net margin of 4.06%. The company had revenue of $479.80 million during the quarter, compared to analyst estimates of $448.46 million. During the same quarter last year, the firm posted ($0.08) earnings per share. The firm's revenue was up 23.3% on a year-over-year basis. On average, analysts expect Carpenter Technology to post $2 EPS for the current fiscal year and $3 EPS for the next fiscal year.
Carpenter Technology (CRS) opened at $53.74 on Wednesday. The company has a current ratio of 2.91, a quick ratio of 0.98 and a debt-to-equity ratio of 0.45. The company has a market capitalization of $2,520.00, a price-to-earnings ratio of 33.38 and a beta of 2.08. Carpenter Technology has a 52-week low of $34.24 and a 52-week high of $54.61.
In other Carpenter Technology news, COO Joseph E. Haniford sold 11,448 shares of the firm's stock in a transaction on Friday, December 1st. The stock was sold at an average price of $49.09, for a total transaction of $561,982.32. The sale was disclosed in a document filed with the Securities & Exchange Commission, which is accessible through
this link
. Company insiders own 4.51% of the company's stock.
Several equities analysts have commented on CRS shares. Cowen raised their price objective on Carpenter Technology from $37.00 to $53.00 in a research report on Thursday, October 26th. Zacks Investment Research lowered Carpenter Technology from a "hold" rating to a "sell" rating in a research report on Monday, January 1st. Finally, KeyCorp reissued a "hold" rating on shares of Carpenter Technology in a research report on Thursday, November 16th. Two research analysts have rated the stock with a hold rating, two have given a buy rating and one has issued a strong buy rating to the stock. The stock has an average rating of "Buy" and an average price target of $52.25.
WARNING: "Carpenter Technology (CRS) Scheduled to Post Earnings on Wednesday" was originally published by American Banking News and is the property of of American Banking News. If you are reading this story on another domain, it was copied illegally and republished in violation of US & international trademark & copyright laws. The legal version of this story can be read at https://www.americanbankingnews.com/2018/01/24/carpenter-technology-crs-scheduled-to-post-earnings-on-wednesday.html.
About Carpenter Technology
Carpenter Technology Corporation is engaged in the manufacturing, fabrication and distribution of specialty metals. The Company's segments include Specialty Alloys Operations (SAO) and Performance Engineered Products (PEP). Its SAO segment consists of alloy and stainless steel manufacturing operations.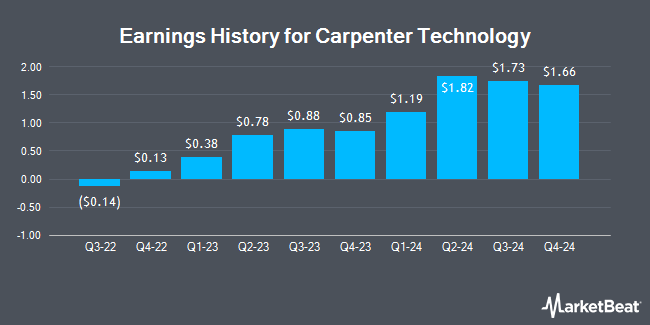 Receive News & Ratings for Carpenter Technology Daily - Enter your email address below to receive a concise daily summary of the latest news and analysts' ratings for Carpenter Technology and related companies with MarketBeat.com's FREE daily email newsletter.