Timberland Bancorp, Inc. (NASDAQ:TSBK) announced a quarterly dividend on Wednesday, January 24th, Wall Street Journal reports. Shareholders of record on Wednesday, February 14th will be paid a dividend of 0.13 per share by the savings and loans company on Wednesday, February 28th. This represents a $0.52 dividend on an annualized basis and a yield of 1.87%. The ex-dividend date is Tuesday, February 13th. This is a boost from Timberland Bancorp's previous quarterly dividend of $0.11.
Shares of Timberland Bancorp (NASDAQ TSBK) traded down $0.11 during midday trading on Wednesday, reaching $27.74. The company's stock had a trading volume of 19,600 shares, compared to its average volume of 15,460. The stock has a market capitalization of $201.20, a price-to-earnings ratio of 14.15 and a beta of 0.37. Timberland Bancorp has a 52 week low of $20.50 and a 52 week high of $32.10.
Timberland Bancorp (NASDAQ:TSBK) last announced its earnings results on Wednesday, November 1st. The savings and loans company reported $0.48 earnings per share (EPS) for the quarter. The company had revenue of $12.27 million for the quarter. Timberland Bancorp had a return on equity of 13.36% and a net margin of 27.94%.
A number of hedge funds and other institutional investors have recently made changes to their positions in the business. State Street Corp purchased a new stake in shares of Timberland Bancorp during the second quarter worth $1,650,000. California State Teachers Retirement System purchased a new stake in shares of Timberland Bancorp during the second quarter worth $278,000. Finally, The Manufacturers Life Insurance Company increased its position in shares of Timberland Bancorp by 11,863.3% during the second quarter. The Manufacturers Life Insurance Company now owns 7,178 shares of the savings and loans company's stock worth $182,000 after acquiring an additional 7,118 shares during the period. 54.26% of the stock is currently owned by institutional investors.
TRADEMARK VIOLATION WARNING: This piece was originally published by American Banking News and is owned by of American Banking News. If you are viewing this piece on another site, it was illegally copied and republished in violation of US & international copyright law. The legal version of this piece can be read at https://www.americanbankingnews.com/2018/01/24/timberland-bancorp-inc-tsbk-announces-dividend-increase-0-13-per-share.html.
About Timberland Bancorp
Timberland Bancorp, Inc is the holding company for Timberland Savings Bank, SSB (the Bank). The Bank is a community-oriented bank, which offers a range of savings products to its retail customers while concentrating its lending activities on real estate mortgage loans and commercial business loans. The Bank offers personal banking solutions, business solutions, lending solutions and additional services.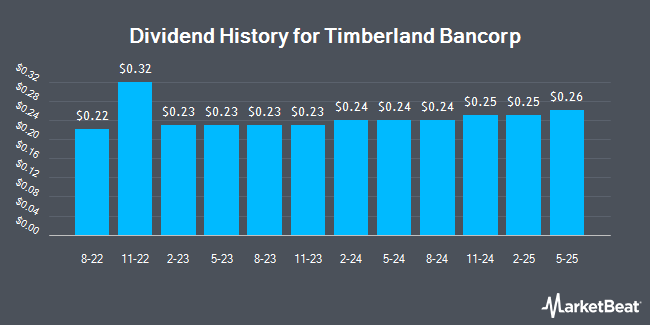 Receive News & Ratings for Timberland Bancorp Daily - Enter your email address below to receive a concise daily summary of the latest news and analysts' ratings for Timberland Bancorp and related companies with MarketBeat.com's FREE daily email newsletter.