Rivernorth Opportunities Fund Inc (NYSE:RIV) declared a monthly dividend on Friday, January 26th, Wall Street Journal reports. Stockholders of record on Friday, February 16th will be given a dividend of 0.21 per share on Wednesday, February 28th. This represents a $2.52 annualized dividend and a dividend yield of 12.03%. The ex-dividend date is Thursday, February 15th.
Shares of Rivernorth Opportunities Fund (NYSE:RIV) traded up $0.13 during trading hours on Friday, reaching $20.95. The company had a trading volume of 51,393 shares, compared to its average volume of 66,811. Rivernorth Opportunities Fund has a 52 week low of $19.10 and a 52 week high of $21.57.
In related news, insider Rivernorth Capital Management, sold 13,442 shares of the business's stock in a transaction dated Thursday, December 21st. The stock was sold at an average price of $19.75, for a total transaction of $265,479.50. The sale was disclosed in a filing with the SEC, which is accessible through this link. In the last 90 days, insiders have sold 40,442 shares of company stock worth $816,160.
COPYRIGHT VIOLATION NOTICE: "Rivernorth Opportunities Fund Inc (RIV) to Issue $0.21 Monthly Dividend" was first reported by American Banking News and is the sole property of of American Banking News. If you are viewing this news story on another domain, it was illegally copied and reposted in violation of U.S. and international copyright law. The legal version of this news story can be accessed at https://www.americanbankingnews.com/2018/01/26/rivernorth-opportunities-fund-inc-riv-to-issue-0-21-monthly-dividend.html.
About Rivernorth Opportunities Fund
Rivernorth Opportunities Fund, Inc (the Fund) is a diversified, closed-end management investment company. The Fund's investment objective is total return consisting of capital appreciation and current income. The Fund seeks to achieve its investment objective by pursuing a tactical asset allocation strategy and opportunistically investing under normal circumstances in closed-end funds and exchange-traded funds (ETFs, and collectively, Underlying Funds).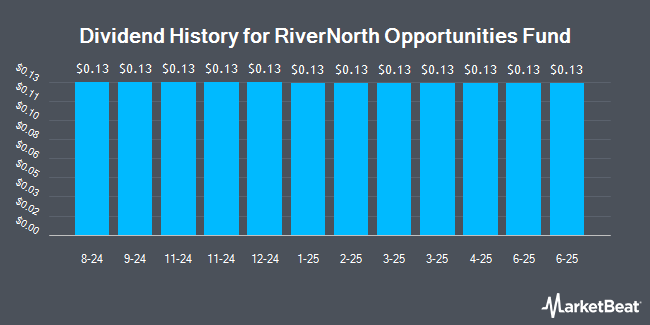 Receive News & Ratings for Rivernorth Opportunities Fund Daily - Enter your email address below to receive a concise daily summary of the latest news and analysts' ratings for Rivernorth Opportunities Fund and related companies with MarketBeat.com's FREE daily email newsletter.