Shares of Alio Gold Inc (TSE:ALO) have been assigned an average rating of "Hold" from the seven analysts that are covering the firm, Marketbeat.com reports. One research analyst has rated the stock with a sell recommendation, three have assigned a hold recommendation and two have issued a buy recommendation on the company. The average twelve-month price target among brokerages that have issued a report on the stock in the last year is C$7.54.
ALO has been the subject of a number of recent analyst reports. Raymond James Financial decreased their price target on Alio Gold from C$9.50 to C$7.25 and set an "underperform" rating for the company in a report on Tuesday, November 21st. Scotiabank reissued a "sector perform" rating and issued a C$7.50 target price on shares of Alio Gold in a report on Friday, November 10th. BMO Capital Markets reissued a "market perform" rating and issued a C$6.00 target price on shares of Alio Gold in a report on Friday, October 6th. Finally, National Bank Financial reissued an "outperform" rating on shares of Alio Gold in a report on Tuesday, October 17th.
Shares of Alio Gold (TSE ALO) opened at C$4.23 on Friday. The stock has a market capitalization of $189.48, a PE ratio of 6.04 and a beta of -1.05. Alio Gold has a fifty-two week low of C$3.60 and a fifty-two week high of C$7.99.
Alio Gold (TSE:ALO) last announced its quarterly earnings results on Thursday, November 9th. The company reported C$0.15 earnings per share (EPS) for the quarter, topping the Zacks' consensus estimate of C$0.04 by C$0.11. Alio Gold had a return on equity of 11.98% and a net margin of 20.63%.
COPYRIGHT VIOLATION NOTICE: This report was originally posted by American Banking News and is owned by of American Banking News. If you are viewing this report on another publication, it was illegally copied and republished in violation of U.S. and international trademark and copyright laws. The original version of this report can be accessed at https://www.americanbankingnews.com/2018/01/27/alio-gold-inc-alo-receives-consensus-rating-of-hold-from-analysts.html.
Alio Gold Company Profile
Alio Gold Inc, through its subsidiaries, engages in the acquisition, exploration, development, and operation of mineral resource properties in Mexico. It primarily explores for gold deposits. The company holds a 100 % interest in the Ana Paula Property in Guerrero, Mexico. The company was formerly known as Timmins Gold Corp.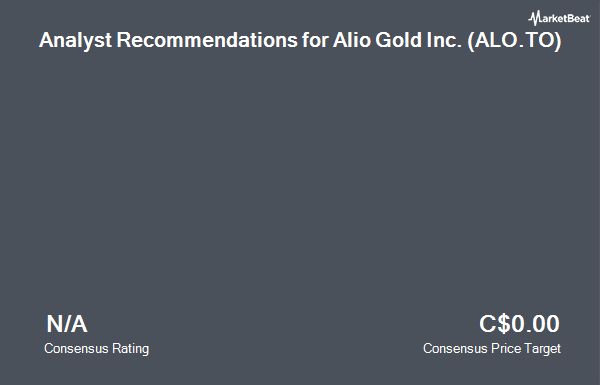 Receive News & Ratings for Alio Gold Daily - Enter your email address below to receive a concise daily summary of the latest news and analysts' ratings for Alio Gold and related companies with MarketBeat.com's FREE daily email newsletter.