BT Group (LON:BT.A)'s stock had its "buy" rating restated by investment analysts at Numis Securities in a research report issued to clients and investors on Thursday. They currently have a GBX 400 ($5.42) target price on the communications services company's stock. Numis Securities' target price would suggest a potential upside of 52.15% from the company's current price.
BT.A has been the subject of several other research reports. Credit Suisse Group downgraded shares of BT Group to a "neutral" rating and decreased their price objective for the stock from GBX 360 ($4.88) to GBX 310 ($4.20) in a research note on Monday, October 9th. Royal Bank of Canada reissued an "outperform" rating and issued a GBX 410 ($5.56) price objective on shares of BT Group in a research note on Wednesday, December 6th. Macquarie reissued an "outperform" rating on shares of BT Group in a research note on Wednesday, January 3rd. Barclays set a GBX 420 ($5.70) price objective on shares of BT Group and gave the stock a "buy" rating in a research note on Wednesday, November 8th. Finally, Jefferies Group decreased their price objective on shares of BT Group from GBX 280 ($3.80) to GBX 265 ($3.59) and set a "hold" rating for the company in a research note on Wednesday, October 25th. Two research analysts have rated the stock with a sell rating, ten have given a hold rating and seven have given a buy rating to the stock. BT Group presently has a consensus rating of "Hold" and a consensus target price of GBX 326.74 ($4.43).
Shares of BT Group (BT.A) traded up GBX 2.35 ($0.03) during trading hours on Thursday, hitting GBX 262.90 ($3.57). 20,190,000 shares of the company were exchanged, compared to its average volume of 15,900,000. BT Group has a 1 year low of GBX 242.20 ($3.28) and a 1 year high of GBX 349.20 ($4.74). The company has a market cap of $26,080.00 and a P/E ratio of 1,643.13.
In related news, insider Nicholas (Nick) Rose acquired 100,000 shares of the stock in a transaction dated Monday, November 6th. The stock was acquired at an average cost of GBX 251 ($3.40) per share, for a total transaction of £251,000 ($340,385.14). Also, insider Mike Inglis acquired 1,999 shares of the stock in a transaction dated Wednesday, November 8th. The shares were bought at an average price of GBX 248 ($3.36) per share, with a total value of £4,957.52 ($6,722.97).
WARNING: This story was originally published by American Banking News and is owned by of American Banking News. If you are accessing this story on another website, it was stolen and republished in violation of United States and international copyright and trademark laws. The correct version of this story can be viewed at https://www.americanbankingnews.com/2018/01/27/bt-group-bt-a-given-buy-rating-at-numis-securities.html.
BT Group Company Profile
BT Group plc is a communications services company. The Company is engaged in selling fixed-voice services, broadband, mobile and television products and services, as well as managed networked information technology (IT) solutions and cyber security protection. Its segments include Consumer, which provides fixed-voice, broadband, TV and mobile services; EE, which is a mobile network operator in the United Kingdom and provides mobile and fixed communications services to consumers; Business and Public Sector, which provides communications and IT services to businesses and the public sector in the United Kingdom and the Republic of Ireland (RoI) ;Global Services, which provides managed networked IT services to corporate customers; Wholesale and Ventures, which provides fixed and mobile services to communications providers (CPs); and Openreach, which provides copper and fiber connections between its exchanges and homes and businesses.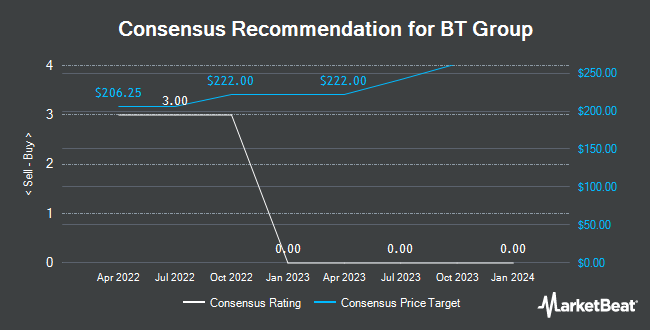 Receive News & Ratings for BT Group Daily - Enter your email address below to receive a concise daily summary of the latest news and analysts' ratings for BT Group and related companies with MarketBeat.com's FREE daily email newsletter.