Antofagasta (LON:ANTO) had its price objective dropped by equities researchers at JPMorgan Chase & Co. from GBX 700 ($9.49) to GBX 660 ($8.95) in a research report issued to clients and investors on Thursday. The firm presently has an "underweight" rating on the mining company's stock. JPMorgan Chase & Co.'s price objective points to a potential downside of 29.86% from the company's current price.
Other equities research analysts have also recently issued research reports about the company. Jefferies Group restated a "buy" rating on shares of Antofagasta in a report on Monday, December 18th. Investec upgraded Antofagasta to a "buy" rating and boosted their price objective for the stock from GBX 957 ($12.98) to GBX 1,046 ($14.18) in a report on Friday, September 29th. Barclays boosted their price objective on Antofagasta from GBX 920 ($12.48) to GBX 995 ($13.49) and gave the stock an "equal weight" rating in a report on Monday, January 8th. Peel Hunt boosted their price objective on Antofagasta from GBX 1,000 ($13.56) to GBX 1,010 ($13.70) and gave the stock a "hold" rating in a report on Monday, November 27th. Finally, Macquarie restated a "neutral" rating and set a GBX 930 ($12.61) price objective on shares of Antofagasta in a report on Tuesday, October 10th. Eight equities research analysts have rated the stock with a sell rating, seven have issued a hold rating and three have given a buy rating to the stock. Antofagasta has an average rating of "Hold" and an average price target of GBX 826.44 ($11.21).
Shares of Antofagasta (LON ANTO) traded down GBX 7 ($0.09) during trading hours on Thursday, hitting GBX 941 ($12.76). The stock had a trading volume of 2,652,387 shares, compared to its average volume of 1,990,000. Antofagasta has a 12 month low of GBX 11.12 ($0.15) and a 12 month high of GBX 1,071 ($14.52). The company has a market capitalization of $9,340.00 and a PE ratio of 4,091.30.
WARNING: "JPMorgan Chase & Co. Lowers Antofagasta (ANTO) Price Target to GBX 660" was posted by American Banking News and is owned by of American Banking News. If you are accessing this article on another domain, it was illegally copied and republished in violation of international trademark & copyright law. The legal version of this article can be accessed at https://www.americanbankingnews.com/2018/01/27/jpmorgan-chase-co-lowers-antofagasta-anto-price-target-to-gbx-660.html.
Antofagasta Company Profile
Antofagasta plc is a copper mining company. The Company is engaged in by-product production and has interests in transport. The Company's segments include Los Pelambres, Centinela, Michilla, Antucoya, Zaldivar, Exploration and evaluation, Railway and other transport services, Mining, Water concession, and Corporate and other items.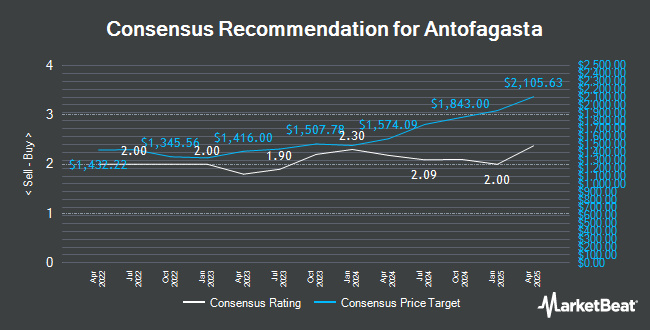 Receive News & Ratings for Antofagasta Daily - Enter your email address below to receive a concise daily summary of the latest news and analysts' ratings for Antofagasta and related companies with MarketBeat.com's FREE daily email newsletter.