US Foods (NYSE:USFD) was upgraded by Zacks Investment Research from a "hold" rating to a "buy" rating in a report issued on Saturday. The firm presently has a $38.00 price target on the stock. Zacks Investment Research's price objective would indicate a potential upside of 12.36% from the stock's current price.
According to Zacks, "US Foods Holding Corp. is a foodservice distributor. The company serves independent and multi-unit restaurants, healthcare and hospitality entities, government and educational institutions. US Foods Holding Corp. is headquartered in Rosemont, Ill. "
Several other equities research analysts also recently commented on the company. Barclays downgraded US Foods from an "overweight" rating to an "equal weight" rating and set a $32.00 price objective for the company. in a report on Tuesday, January 16th. BidaskClub downgraded US Foods from a "buy" rating to a "hold" rating in a report on Tuesday, October 3rd. Five analysts have rated the stock with a hold rating and six have issued a buy rating to the stock. The company currently has a consensus rating of "Buy" and a consensus price target of $32.44.
US Foods (
NYSE USFD
) traded up $0.15 during midday trading on Friday, hitting $33.82. The stock had a trading volume of 1,600,000 shares, compared to its average volume of 2,520,000. The firm has a market cap of $7,600.00 and a P/E ratio of 28.91. The company has a current ratio of 1.40, a quick ratio of 0.81 and a debt-to-equity ratio of 1.31. US Foods has a 12 month low of $25.43 and a 12 month high of $33.90.
US Foods (NYSE:USFD) last released its quarterly earnings data on Tuesday, November 7th. The company reported $0.42 EPS for the quarter, beating the consensus estimate of $0.32 by $0.10. US Foods had a return on equity of 12.64% and a net margin of 1.11%. equities analysts predict that US Foods will post 1.16 EPS for the current fiscal year.
In other US Foods news, major shareholder Usf Co-Investor No. 2 L.P Cdr sold 19,977,773 shares of the firm's stock in a transaction on Monday, December 4th. The stock was sold at an average price of $28.00, for a total transaction of $559,377,644.00. The sale was disclosed in a filing with the Securities & Exchange Commission, which is available at this link. Company insiders own 1.56% of the company's stock.
Institutional investors have recently made changes to their positions in the business. Cerebellum GP LLC acquired a new stake in US Foods during the 4th quarter valued at $135,000. Brown Advisory Inc. bought a new position in shares of US Foods in the third quarter worth $214,000. CrestPoint Capital Management LLC bought a new position in shares of US Foods in the fourth quarter worth $224,000. Boothbay Fund Management LLC bought a new position in shares of US Foods in the third quarter worth $296,000. Finally, Atria Investments LLC bought a new position in shares of US Foods in the fourth quarter worth $307,000. 96.72% of the stock is owned by institutional investors and hedge funds.
TRADEMARK VIOLATION NOTICE: This piece was first published by American Banking News and is the sole property of of American Banking News. If you are reading this piece on another domain, it was illegally copied and reposted in violation of US and international copyright and trademark laws. The legal version of this piece can be accessed at https://www.americanbankingnews.com/2018/01/27/us-foods-usfd-upgraded-to-buy-by-zacks-investment-research.html.
US Foods Company Profile
US Foods Holding Corp. is a holding company. The Company is a foodservice distributor in the United States. The Company, through US Foods, Inc (USF), markets and primarily distributes fresh, frozen and dry food and non-food products to foodservice customers throughout the United States. These customers include independently owned single and multi-unit restaurants, regional concepts, national restaurant chains, hospitals, nursing homes, hotels and motels, country clubs, government and military organizations, colleges and universities, and retail locations.
Get a free copy of the Zacks research report on US Foods (USFD)
For more information about research offerings from Zacks Investment Research, visit Zacks.com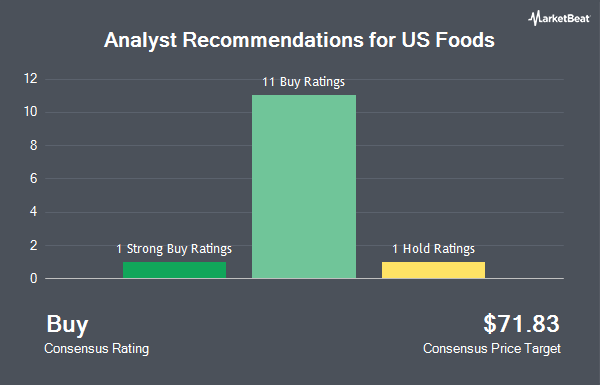 Receive News & Ratings for US Foods Daily - Enter your email address below to receive a concise daily summary of the latest news and analysts' ratings for US Foods and related companies with MarketBeat.com's FREE daily email newsletter.