J Sainsbury (LON:SBRY)'s stock had its "buy" rating restated by research analysts at Shore Capital in a research report issued to clients and investors on Wednesday.
Several other equities analysts also recently commented on the stock. Credit Suisse Group downgraded shares of J Sainsbury to a "neutral" rating and dropped their price target for the stock from GBX 295 ($4.00) to GBX 275 ($3.73) in a research note on Monday, January 22nd. JPMorgan Chase & Co. restated an "underweight" rating and issued a GBX 200 ($2.71) price target on shares of J Sainsbury in a research note on Thursday, January 18th. Barclays restated an "equal weight" rating and issued a GBX 240 ($3.25) price target on shares of J Sainsbury in a research note on Friday, January 12th. Kepler Capital Markets reaffirmed a "hold" rating and set a GBX 252 ($3.42) price objective on shares of J Sainsbury in a research report on Thursday, January 11th. Finally, Deutsche Bank reaffirmed a "hold" rating on shares of J Sainsbury in a research report on Monday, January 8th. Three investment analysts have rated the stock with a sell rating, seven have given a hold rating and four have assigned a buy rating to the stock. J Sainsbury currently has a consensus rating of "Hold" and an average target price of GBX 259.33 ($3.52).
J Sainsbury (SBRY) traded up GBX 2.50 ($0.03) during mid-day trading on Wednesday, hitting GBX 261.10 ($3.54). 9,985,342 shares of the stock traded hands, compared to its average volume of 7,650,000. The stock has a market cap of $5,720.00 and a price-to-earnings ratio of 2,611.00. J Sainsbury has a 1 year low of GBX 222.40 ($3.02) and a 1 year high of GBX 339.89 ($4.61).
TRADEMARK VIOLATION NOTICE: This article was originally reported by American Banking News and is owned by of American Banking News. If you are accessing this article on another website, it was illegally copied and republished in violation of U.S. and international copyright and trademark law. The original version of this article can be accessed at https://www.americanbankingnews.com/2018/01/28/j-sainsbury-sbry-rating-reiterated-by-shore-capital-2.html.
About J Sainsbury
J Sainsbury plc is engaged in grocery-related retailing and retail banking. The Company's segments include Retailing; Financial services, and Property investments. The Retailing segment is engaged in the operation of supermarkets and convenience. The Financial services segment includes the operations of Sainsbury's Bank plc (Sainsbury's Bank).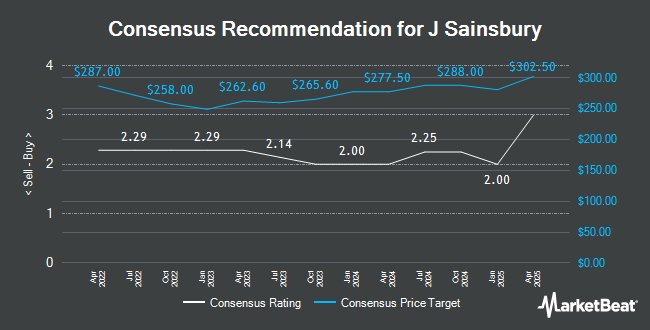 Receive News & Ratings for J Sainsbury Daily - Enter your email address below to receive a concise daily summary of the latest news and analysts' ratings for J Sainsbury and related companies with MarketBeat.com's FREE daily email newsletter.