Staffline Group (LON:STAF)'s stock had its "buy" rating reaffirmed by investment analysts at Liberum Capital in a research note issued on Wednesday. They currently have a GBX 1,320 ($17.90) price target on the stock. Liberum Capital's price objective suggests a potential upside of 27.91% from the company's current price.
Several other equities analysts have also commented on the company. Berenberg Bank reissued a "buy" rating and set a GBX 1,250 ($16.95) price objective on shares of Staffline Group in a research report on Wednesday, January 3rd. Credit Suisse Group reaffirmed an "underperform" rating and issued a GBX 1,000 ($13.56) price target on shares of Staffline Group in a research report on Wednesday, January 3rd. Finally, FinnCap reaffirmed a "buy" rating and issued a GBX 1,615 ($21.90) price target on shares of Staffline Group in a research report on Monday, December 4th. One analyst has rated the stock with a sell rating, one has given a hold rating and three have issued a buy rating to the company's stock. Staffline Group presently has an average rating of "Hold" and a consensus price target of GBX 1,247 ($16.91).
Shares of Staffline Group (STAF) traded up GBX 43 ($0.58) during trading on Wednesday, reaching GBX 1,032 ($14.00). The company's stock had a trading volume of 313,587 shares, compared to its average volume of 58,669. The stock has a market capitalization of $287.41 and a price-to-earnings ratio of 1,453.52. Staffline Group has a fifty-two week low of GBX 957.50 ($12.98) and a fifty-two week high of GBX 1,451.72 ($19.69).
In related news, insider Chris Pullen purchased 275,000 shares of the stock in a transaction dated Wednesday, January 24th. The stock was purchased at an average price of GBX 999 ($13.55) per share, with a total value of £2,747,250 ($3,725,589.91).
COPYRIGHT VIOLATION WARNING: This report was originally published by American Banking News and is the property of of American Banking News. If you are viewing this report on another site, it was copied illegally and reposted in violation of United States and international trademark & copyright law. The original version of this report can be viewed at https://www.americanbankingnews.com/2018/01/28/staffline-group-staf-receives-buy-rating-from-liberum-capital.html.
About Staffline Group
Staffline Group plc is a holding company, which is engaged in the provision of recruitment and outsourced human resource services to industry and services in the welfare to work arena and skills training. The Company has two segments: Staffing Services, which includes the provision of temporary staff to customers, and PeoplePlus, which includes the provision of welfare to work and other training services.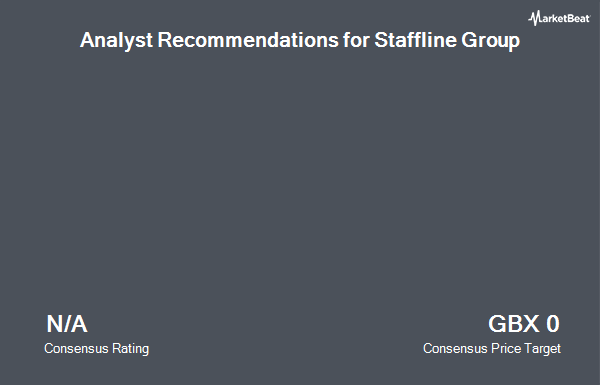 Receive News & Ratings for Staffline Group Daily - Enter your email address below to receive a concise daily summary of the latest news and analysts' ratings for Staffline Group and related companies with MarketBeat.com's FREE daily email newsletter.