Albany International (NYSE:AIN) is set to post its quarterly earnings results after the market closes on Monday, February 5th. Analysts expect Albany International to post earnings of $0.52 per share for the quarter.
Albany International (NYSE:AIN) last announced its quarterly earnings results on Monday, October 30th. The textile maker reported $0.57 EPS for the quarter, topping analysts' consensus estimates of $0.42 by $0.15. Albany International had a return on equity of 11.15% and a net margin of 6.85%. The company had revenue of $222.14 million during the quarter. During the same period in the previous year, the business earned $0.41 EPS. On average, analysts expect Albany International to post $1 EPS for the current fiscal year and $2 EPS for the next fiscal year.
Shares of Albany International (NYSE:AIN) opened at $63.50 on Monday. Albany International has a 52 week low of $43.45 and a 52 week high of $65.65. The company has a market capitalization of $2,040.00, a price-to-earnings ratio of 47.74 and a beta of 1.73. The company has a quick ratio of 1.76, a current ratio of 2.49 and a debt-to-equity ratio of 0.80.
The company also recently disclosed a quarterly dividend, which was paid on Monday, January 8th. Shareholders of record on Tuesday, December 26th were given a dividend of $0.17 per share. This represents a $0.68 annualized dividend and a yield of 1.07%. The ex-dividend date was Friday, December 22nd. Albany International's dividend payout ratio is currently 51.13%.
Separately, Noble Financial initiated coverage on Albany International in a research report on Tuesday, January 9th. They set a "hold" rating for the company.
ILLEGAL ACTIVITY NOTICE: This story was posted by American Banking News and is owned by of American Banking News. If you are viewing this story on another publication, it was illegally stolen and republished in violation of U.S. & international trademark & copyright law. The correct version of this story can be viewed at https://www.americanbankingnews.com/2018/01/29/albany-international-ain-set-to-announce-earnings-on-monday.html.
About Albany International
Albany International Corp. is focused on textiles and materials processing business. The Company operates through two segments: Machine Clothing and Albany Engineered Composites. The Company's Machine Clothing segment supplies permeable and impermeable belts used in the manufacture of paper, paperboard, nonwovens, fiber cement and various other industrial applications.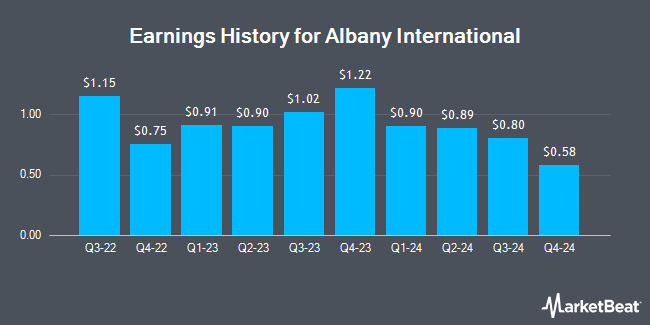 Receive News & Ratings for Albany International Daily - Enter your email address below to receive a concise daily summary of the latest news and analysts' ratings for Albany International and related companies with MarketBeat.com's FREE daily email newsletter.