Shares of Brighthouse Financial Inc (NASDAQ:BHF) have been given an average recommendation of "Hold" by the nineteen research firms that are presently covering the company, Marketbeat Ratings reports. Two equities research analysts have rated the stock with a sell rating, fourteen have given a hold rating and three have given a buy rating to the company. The average 1 year price objective among brokers that have covered the stock in the last year is $66.14.
Several brokerages recently issued reports on BHF. Zacks Investment Research downgraded Brighthouse Financial from a "hold" rating to a "sell" rating in a research note on Tuesday, December 5th. Deutsche Bank started coverage on Brighthouse Financial in a research note on Tuesday, January 2nd. They issued a "buy" rating and a $70.00 price objective on the stock. B. Riley reaffirmed a "neutral" rating on shares of Brighthouse Financial in a research note on Monday, November 6th. ValuEngine downgraded Brighthouse Financial from a "strong-buy" rating to a "buy" rating in a research note on Thursday, November 9th. Finally, BidaskClub raised Brighthouse Financial from a "strong sell" rating to a "sell" rating in a research note on Saturday, January 6th.
Shares of Brighthouse Financial (BHF) opened at $65.73 on Monday. The stock has a market capitalization of $7,870.00 and a P/E ratio of -2.80. Brighthouse Financial has a 12 month low of $52.75 and a 12 month high of $75.00. The company has a debt-to-equity ratio of 0.26, a quick ratio of 0.47 and a current ratio of 0.47.
Brighthouse Financial (NASDAQ:BHF) last issued its earnings results on Wednesday, November 1st. The company reported $2.45 earnings per share (EPS) for the quarter, beating the consensus estimate of $2.15 by $0.30. equities analysts forecast that Brighthouse Financial will post 1.51 earnings per share for the current fiscal year.
COPYRIGHT VIOLATION NOTICE: This article was originally published by American Banking News and is the property of of American Banking News. If you are reading this article on another publication, it was illegally stolen and republished in violation of United States & international copyright and trademark law. The correct version of this article can be read at https://www.americanbankingnews.com/2018/01/29/brighthouse-financial-inc-bhf-given-consensus-recommendation-of-hold-by-analysts-2.html.
Brighthouse Financial Company Profile
Brighthouse Financial, Inc is a provider of life insurance and annuity products in the United States. The Company offers a range of products and services, which include variable, fixed, index-linked and income annuities, as well as variable, universal, term and whole life products. These products and services are marketed through various third party retail distribution channels in the United States.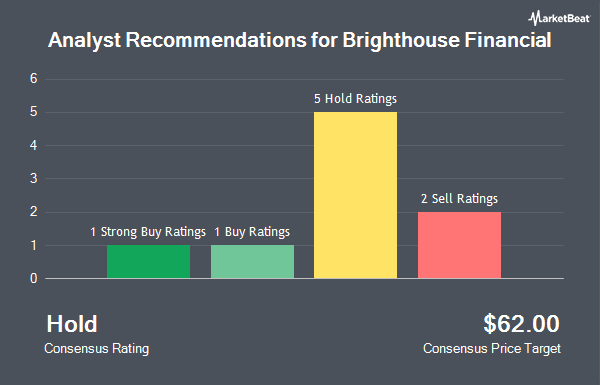 Receive News & Ratings for Brighthouse Financial Daily - Enter your email address below to receive a concise daily summary of the latest news and analysts' ratings for Brighthouse Financial and related companies with MarketBeat.com's FREE daily email newsletter.