Superior Plus (TSE:SPB) had its target price dropped by National Bank Financial from C$15.00 to C$14.00 in a research report issued on Monday. The firm presently has an "outperform" rating on the stock. National Bank Financial's target price would indicate a potential upside of 16.09% from the stock's previous close.
Other research analysts also recently issued research reports about the stock. Scotiabank reaffirmed a "sector perform" rating and issued a C$13.75 target price on shares of Superior Plus in a report on Monday, October 16th. TD Securities upped their target price on shares of Superior Plus from C$13.00 to C$13.50 and gave the stock a "hold" rating in a report on Friday, November 10th. CIBC dropped their target price on shares of Superior Plus from C$13.50 to C$13.00 in a report on Monday, November 13th. Finally, Canaccord Genuity dropped their target price on shares of Superior Plus from C$13.25 to C$13.00 in a report on Wednesday, November 15th. Four analysts have rated the stock with a hold rating and four have assigned a buy rating to the company. The stock currently has an average rating of "Buy" and a consensus target price of C$13.75.
Shares of Superior Plus (TSE SPB) traded down C$0.02 during mid-day trading on Monday, hitting C$12.06. 91,820 shares of the stock were exchanged, compared to its average volume of 211,519. Superior Plus has a 12-month low of C$10.80 and a 12-month high of C$13.34. The company has a market cap of $1,730.00, a P/E ratio of -17.48 and a beta of 0.41.
Superior Plus (TSE:SPB) last issued its quarterly earnings data on Wednesday, November 8th. The company reported C($0.87) earnings per share (EPS) for the quarter, missing analysts' consensus estimates of C($0.15) by C($0.72). Superior Plus had a negative net margin of 26.81% and a negative return on equity of 60.09%.
TRADEMARK VIOLATION NOTICE: "National Bank Financial Lowers Superior Plus (SPB) Price Target to C$14.00" was published by American Banking News and is owned by of American Banking News. If you are viewing this story on another website, it was illegally copied and republished in violation of US & international copyright and trademark laws. The original version of this story can be read at https://www.americanbankingnews.com/2018/01/29/national-bank-financial-lowers-superior-plus-spb-price-target-to-c14-00.html.
About Superior Plus
Superior Plus Corp. (Superior) is a Canada-based diversified business company. The Company operates through two segment: Energy Distribution and Specialty Chemicals. The Company's Energy Distribution operating segment provides distribution, wholesale procurement and related services in relation to propane, heating oil and other refined fuels under Canadian propane division and the United States refined fuels division.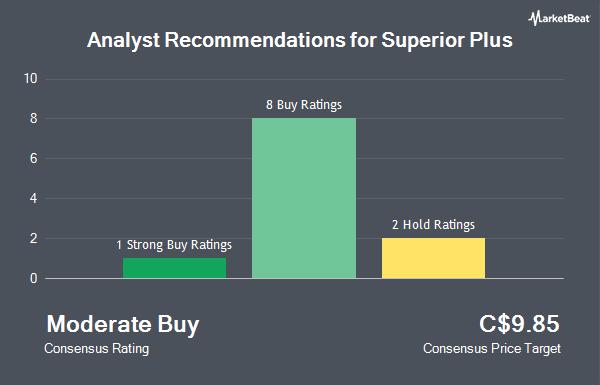 Receive News & Ratings for Superior Plus Daily - Enter your email address below to receive a concise daily summary of the latest news and analysts' ratings for Superior Plus and related companies with MarketBeat.com's FREE daily email newsletter.