Saputo Inc. (TSE:SAP) – Analysts at National Bank Financial decreased their FY2018 earnings estimates for shares of Saputo in a research note issued to investors on Thursday. National Bank Financial analyst V. Shreedhar now forecasts that the company will post earnings of $1.92 per share for the year, down from their prior estimate of $1.99. National Bank Financial currently has a "Sector Perform" rating and a $49.00 price target on the stock. National Bank Financial also issued estimates for Saputo's Q4 2018 earnings at $0.44 EPS, Q1 2019 earnings at $0.57 EPS, Q2 2019 earnings at $0.54 EPS, Q3 2019 earnings at $0.62 EPS, Q4 2019 earnings at $0.49 EPS and FY2019 earnings at $2.22 EPS.
Saputo (TSE:SAP) last released its quarterly earnings data on Thursday, November 2nd. The company reported C$0.47 earnings per share for the quarter, missing the Zacks' consensus estimate of C$0.53 by C($0.06). Saputo had a return on equity of 17.20% and a net margin of 6.42%.
Other analysts have also issued research reports about the stock. BMO Capital Markets reiterated a "market perform" rating and issued a C$47.00 price objective on shares of Saputo in a research note on Friday, October 27th. TD Securities set a C$52.00 price objective on shares of Saputo and gave the stock a "buy" rating in a research note on Wednesday, January 3rd. Scotiabank cut their price objective on shares of Saputo from C$58.00 to C$57.00 and set an "outperform" rating on the stock in a research note on Friday, November 3rd. Finally, Desjardins lowered shares of Saputo from a "buy" rating to a "hold" rating in a research note on Monday, October 30th. Two investment analysts have rated the stock with a hold rating and four have issued a buy rating to the company. The company has a consensus rating of "Buy" and an average target price of C$50.14.
Shares of Saputo (SAP) opened at C$42.55 on Monday. The firm has a market cap of $16,460.00, a price-to-earnings ratio of 22.51 and a beta of 0.02. Saputo has a 52 week low of C$39.74 and a 52 week high of C$48.98.
In related news, Director Paul Corney sold 2,000 shares of the stock in a transaction on Monday, November 13th. The shares were sold at an average price of C$44.00, for a total transaction of C$88,000.00.
TRADEMARK VIOLATION WARNING: This piece was first posted by American Banking News and is the property of of American Banking News. If you are viewing this piece on another publication, it was illegally stolen and reposted in violation of U.S. and international copyright & trademark legislation. The original version of this piece can be viewed at https://www.americanbankingnews.com/2018/01/29/saputo-inc-to-post-fy2018-earnings-of-1-92-per-share-national-bank-financial-forecasts-sap.html.
About Saputo
Saputo Inc produces, markets and distributes dairy products, including cheese, fluid milk, extended shelf-life milk and cream products, cultured products and dairy ingredients. The Company has three geographic sectors. The Canada Sector consists of Dairy Division (Canada). The USA Sector aggregates the Cheese Division (USA) and the Dairy Foods Division (USA).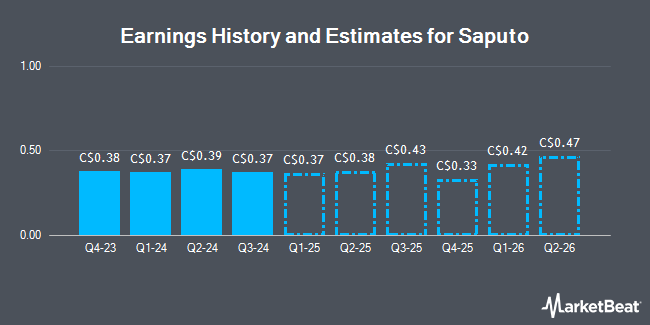 Receive News & Ratings for Saputo Daily - Enter your email address below to receive a concise daily summary of the latest news and analysts' ratings for Saputo and related companies with MarketBeat.com's FREE daily email newsletter.