TSO3 (TSE:TOS) was downgraded by National Bank Financial from an "outperform" rating to a "sector perform" rating in a research note issued to investors on Monday. They currently have a C$2.25 price objective on the stock, down from their prior price objective of C$5.50. National Bank Financial's price target points to a potential upside of 31.58% from the stock's previous close.
Several other equities analysts have also issued reports on the company. Desjardins reaffirmed a "buy" rating and issued a C$4.00 target price on shares of TSO3 in a report on Wednesday, October 18th. Royal Bank of Canada lowered TSO3 from an "outperform" rating to a "sector perform" rating and reduced their target price for the company from C$4.25 to C$2.00 in a report on Friday. Finally, Canaccord Genuity lowered TSO3 from a "buy" rating to a "speculative buy" rating and reduced their target price for the company from C$4.25 to C$2.75 in a report on Friday. Four research analysts have rated the stock with a hold rating and one has issued a buy rating to the company's stock. The stock currently has a consensus rating of "Hold" and an average price target of C$3.10.
TSO3 (TSE:TOS) traded down C$0.08 during mid-day trading on Monday, hitting C$1.71. The stock had a trading volume of 617,222 shares, compared to its average volume of 324,282. The company has a market capitalization of $157.85, a price-to-earnings ratio of -15.55 and a beta of 1.52. TSO3 has a 52 week low of C$1.55 and a 52 week high of C$3.36.
TSO3 (TSE:TOS) last released its earnings results on Monday, November 6th. The company reported C($0.03) earnings per share (EPS) for the quarter, meeting the consensus estimate of C($0.03). TSO3 had a negative return on equity of 48.85% and a negative net margin of 34.69%.
TRADEMARK VIOLATION WARNING: This story was posted by American Banking News and is owned by of American Banking News. If you are reading this story on another publication, it was copied illegally and reposted in violation of US and international copyright legislation. The legal version of this story can be read at https://www.americanbankingnews.com/2018/01/29/tso3-tos-downgraded-by-national-bank-financial-to-sector-perform.html.
About TSO3
TSO3 Inc is a Canada-based company engaged in the sale, production, maintenance, research, development and licensing of sterilization processes, related consumable supplies and accessories for heat-sensitive medical devices. The Company designs products for sterile processing areas in the hospital environment.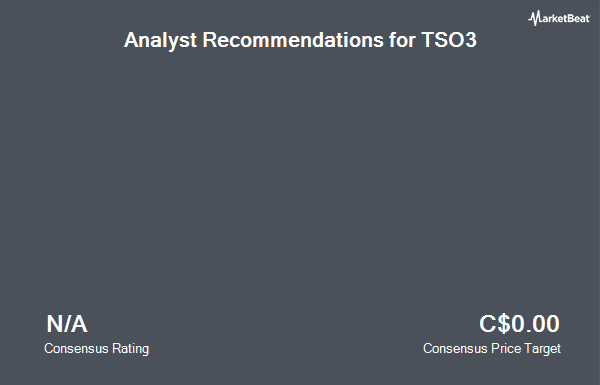 Receive News & Ratings for TSO3 Daily - Enter your email address below to receive a concise daily summary of the latest news and analysts' ratings for TSO3 and related companies with MarketBeat.com's FREE daily email newsletter.