Lions Gate Entertainment (NYSE:LGF) was downgraded by investment analysts at Morgan Stanley from an "overweight" rating to an "equal weight" rating in a report issued on Tuesday.
Separately, Rosenblatt Securities raised shares of Lions Gate Entertainment from a "neutral" rating to a "buy" rating in a report on Monday, November 6th. Two investment analysts have rated the stock with a hold rating and twelve have assigned a buy rating to the company. The stock has a consensus rating of "Buy" and a consensus target price of $32.73.
Shares of Lions Gate Entertainment (LGF) traded down $1.67 during trading on Tuesday, reaching $31.04. 1,260,700 shares of the company's stock were exchanged, compared to its average volume of 2,960,000. The company has a current ratio of 1.64, a quick ratio of 1.64 and a debt-to-equity ratio of 1.43. Lions Gate Entertainment has a 12-month low of $31.03 and a 12-month high of $33.00. The company has a market cap of $4,010.00, a P/E ratio of 141.09 and a beta of 1.26.
COPYRIGHT VIOLATION WARNING: This news story was originally reported by American Banking News and is the sole property of of American Banking News. If you are reading this news story on another site, it was copied illegally and reposted in violation of United States and international trademark and copyright laws. The correct version of this news story can be viewed at https://www.americanbankingnews.com/2018/01/30/lions-gate-entertainment-lgf-downgraded-to-equal-weight-at-morgan-stanley.html.
Lions Gate Entertainment Company Profile
Lions Gate Entertainment Corp. is engaged in motion picture production and distribution, television programming and syndication, home entertainment, international distribution and sales, branded channel platforms, interactive ventures and games and location-based entertainment. The Company operates through two segments: Motion Pictures and Television Production.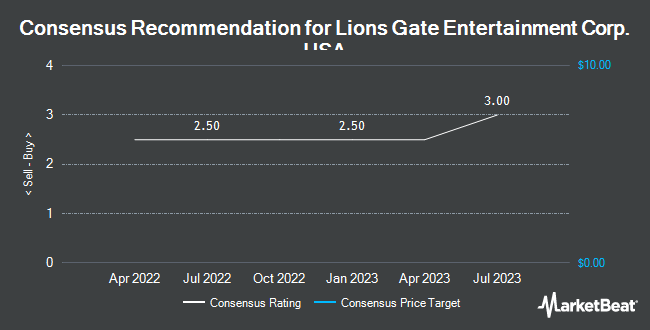 Receive News & Ratings for Lions Gate Entertainment Daily - Enter your email address below to receive a concise daily summary of the latest news and analysts' ratings for Lions Gate Entertainment and related companies with MarketBeat.com's FREE daily email newsletter.