A10 Networks (NYSE:ATEN) will be releasing its earnings data after the market closes on Wednesday, February 7th. Analysts expect A10 Networks to post earnings of $0.01 per share for the quarter.
Shares of A10 Networks (ATEN) opened at $6.99 on Wednesday. The company has a market capitalization of $494.55, a price-to-earnings ratio of -29.13 and a beta of 1.14. A10 Networks has a 12 month low of $5.83 and a 12 month high of $9.94.
A10 Networks announced that its board has approved a stock repurchase program on Thursday, October 26th that authorizes the company to repurchase 20,000,000 shares. This repurchase authorization authorizes the communications equipment provider to repurchase shares of its stock through open market purchases. Stock repurchase programs are often a sign that the company's board of directors believes its stock is undervalued.
Several research firms have recently commented on ATEN. DA Davidson set a $8.00 price objective on A10 Networks and gave the stock a "buy" rating in a research note on Wednesday, January 17th.
Zacks Investment Research
upgraded A10 Networks from a "strong sell" rating to a "hold" rating and set a $8.50 price objective for the company in a research note on Tuesday, October 17th. Two research analysts have rated the stock with a sell rating, one has issued a hold rating and three have given a buy rating to the company. The stock currently has a consensus rating of "Hold" and a consensus target price of $8.88.
In related news, VP Gunter Reiss sold 6,213 shares of the company's stock in a transaction on Monday, November 6th. The shares were sold at an average price of $7.41, for a total value of $46,038.33. Following the completion of the transaction, the vice president now owns 103,429 shares of the company's stock, valued at approximately $766,408.89. The sale was disclosed in a legal filing with the Securities & Exchange Commission, which is available at this link. Also, CEO Lee Chen sold 25,000 shares of the company's stock in a transaction on Wednesday, November 8th. The stock was sold at an average price of $7.29, for a total transaction of $182,250.00. Following the completion of the transaction, the chief executive officer now directly owns 10,186,538 shares of the company's stock, valued at approximately $74,259,862.02. The disclosure for this sale can be found here. Insiders sold a total of 281,213 shares of company stock valued at $2,164,288 in the last ninety days. 31.57% of the stock is currently owned by insiders.
TRADEMARK VIOLATION WARNING: This story was first posted by American Banking News and is the sole property of of American Banking News. If you are reading this story on another site, it was stolen and reposted in violation of United States and international trademark & copyright law. The original version of this story can be viewed at https://www.americanbankingnews.com/2018/01/31/a10-networks-aten-to-release-earnings-on-wednesday.html.
A10 Networks Company Profile
A10 Networks, Inc is a provider of software and hardware solutions. The Company's solutions enable its customers to secure and optimize the performance of their data center and cloud applications, and secure their users, applications and infrastructure from Internet, Web and network threats at scale.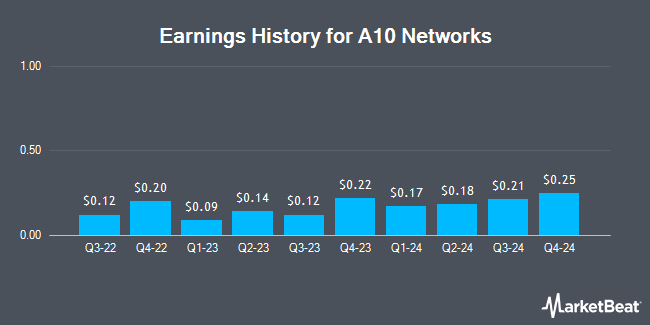 Receive News & Ratings for A10 Networks Daily - Enter your email address below to receive a concise daily summary of the latest news and analysts' ratings for A10 Networks and related companies with MarketBeat.com's FREE daily email newsletter.