Washington Trust Bancorp (NASDAQ:WASH) released its earnings results on Tuesday. The financial services provider reported $0.82 EPS for the quarter, topping the consensus estimate of $0.75 by $0.07, Yahoo Finance reports. Washington Trust Bancorp had a return on equity of 12.44% and a net margin of 23.63%.
Shares of Washington Trust Bancorp (NASDAQ:WASH) traded up $0.90 during trading on Wednesday, reaching $54.65. The company's stock had a trading volume of 15,347 shares, compared to its average volume of 44,340. The company has a quick ratio of 1.09, a current ratio of 1.09 and a debt-to-equity ratio of 2.02. Washington Trust Bancorp has a 12-month low of $47.00 and a 12-month high of $59.10. The firm has a market capitalization of $929.07, a PE ratio of 18.60 and a beta of 0.75.
The firm also recently announced a quarterly dividend, which was paid on Friday, January 12th. Investors of record on Tuesday, January 2nd were paid a dividend of $0.39 per share. The ex-dividend date was Friday, December 29th. This represents a $1.56 annualized dividend and a yield of 2.85%. Washington Trust Bancorp's dividend payout ratio is currently 53.98%.
In other Washington Trust Bancorp news, EVP James M. Hagerty sold 900 shares of the firm's stock in a transaction that occurred on Monday, November 13th. The stock was sold at an average price of $53.33, for a total value of $47,997.00. Following the completion of the sale, the executive vice president now owns 7,609 shares of the company's stock, valued at $405,787.97. The sale was disclosed in a legal filing with the Securities & Exchange Commission, which is available at
this hyperlink
. Also, Director John F. Treanor sold 5,500 shares of the firm's stock in a transaction that occurred on Monday, December 4th. The shares were sold at an average price of $55.94, for a total value of $307,670.00. The disclosure for this sale can be found
here
. Insiders sold 8,500 shares of company stock valued at $467,428 in the last three months. Insiders own 2.58% of the company's stock.
WASH has been the subject of several recent analyst reports. BidaskClub cut Washington Trust Bancorp from a "hold" rating to a "sell" rating in a research note on Saturday, December 9th. Compass Point raised Washington Trust Bancorp from a "neutral" rating to a "buy" rating in a research note on Monday, December 18th.
TRADEMARK VIOLATION WARNING: This piece of content was posted by American Banking News and is the property of of American Banking News. If you are accessing this piece of content on another publication, it was stolen and republished in violation of US & international copyright & trademark legislation. The correct version of this piece of content can be viewed at https://www.americanbankingnews.com/2018/01/31/washington-trust-bancorp-wash-issues-quarterly-earnings-results-beats-expectations-by-0-07-eps.html.
About Washington Trust Bancorp
Washington Trust Bancorp, Inc is a bank holding company and financial holding company. The Company is a holding company of The Washington Trust Company, of Westerly (the Bank), a Rhode Island chartered commercial bank. The Company operates through two business segments: Commercial Banking and Wealth Management Services.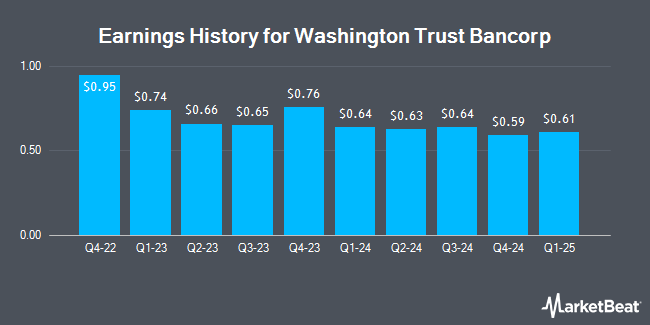 Receive News & Ratings for Washington Trust Bancorp Daily - Enter your email address below to receive a concise daily summary of the latest news and analysts' ratings for Washington Trust Bancorp and related companies with MarketBeat.com's FREE daily email newsletter.