Bellway (LON:BWY)'s stock had its "add" rating restated by equities research analysts at Numis Securities in a research note issued to investors on Thursday. They currently have a GBX 3,980 ($55.89) price target on the stock. Numis Securities' price target suggests a potential upside of 18.24% from the stock's previous close.
Other research analysts have also recently issued research reports about the company. Liberum Capital upped their price target on Bellway from GBX 3,336 ($46.85) to GBX 3,930 ($55.19) and gave the company a "buy" rating in a report on Wednesday, January 3rd. Credit Suisse Group reaffirmed an "outperform" rating and issued a GBX 4,168 ($58.53) price target on shares of Bellway in a report on Thursday, October 26th. Deutsche Bank reaffirmed a "hold" rating on shares of Bellway in a report on Monday. Citigroup reaffirmed a "buy" rating on shares of Bellway in a report on Friday, October 13th. Finally, Canaccord Genuity reaffirmed a "buy" rating and issued a GBX 3,280 ($46.06) price target on shares of Bellway in a report on Tuesday, October 17th. One analyst has rated the stock with a sell rating, five have assigned a hold rating and eight have given a buy rating to the company's stock. Bellway presently has an average rating of "Buy" and a consensus price target of GBX 3,601.42 ($50.57).
Shares of Bellway (BWY) traded up GBX 45 ($0.63) during mid-day trading on Thursday, reaching GBX 3,366 ($47.27). The company's stock had a trading volume of 206,894 shares, compared to its average volume of 293,349. Bellway has a 12 month low of GBX 2,477 ($34.78) and a 12 month high of GBX 3,805 ($53.43). The firm has a market capitalization of $4,110.00 and a P/E ratio of 912.20.
In related news, insider Edward (Ted) Ayres sold 18,768 shares of the company's stock in a transaction on Friday, November 10th. The shares were sold at an average price of GBX 3,429 ($48.15), for a total value of £643,554.72 ($903,742.06). Also, insider Jason Honeyman sold 3,537 shares of the company's stock in a transaction on Friday, December 22nd. The stock was sold at an average price of GBX 3,624 ($50.89), for a total transaction of £128,180.88 ($180,004.04). Over the last 90 days, insiders have sold 30,117 shares of company stock worth $104,281,200.
COPYRIGHT VIOLATION NOTICE: "Numis Securities Reaffirms "Add" Rating for Bellway (BWY)" was first reported by American Banking News and is the property of of American Banking News. If you are reading this piece on another website, it was stolen and reposted in violation of U.S. & international copyright and trademark law. The correct version of this piece can be read at https://www.americanbankingnews.com/2018/02/01/numis-securities-reaffirms-add-rating-for-bellway-bwy.html.
Bellway Company Profile
Bellway p.l.c is a holding company of the Bellway Group of companies. The Company is engaged in the building and selling of homes, ranging from one-bedroom apartments up to five-bedroom family homes, as well as providing social housing-to-housing associations. It focuses on providing traditional family housing outside of London and apartments within the London boroughs, in zone 2 and beyond.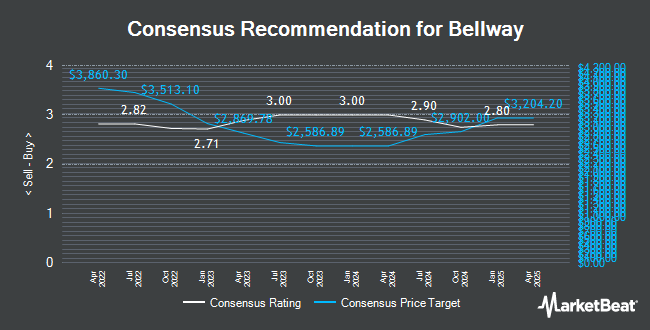 Receive News & Ratings for Bellway Daily - Enter your email address below to receive a concise daily summary of the latest news and analysts' ratings for Bellway and related companies with MarketBeat.com's FREE daily email newsletter.