Beneficial Bancorp, Inc. (NASDAQ:BNCL) declared a dividend on Thursday, February 1st, Fidelity reports. Stockholders of record on Monday, February 5th will be given a dividend of 0.06 per share by the bank on Thursday, February 15th. This represents a dividend yield of 0.00379746835443038%. The ex-dividend date of this dividend is Friday, February 2nd.
Beneficial Bancorp (BNCL) opened at $15.80 on Friday. The company has a debt-to-equity ratio of 0.52, a current ratio of 1.07 and a quick ratio of 1.07. The company has a market capitalization of $1,233.94 and a PE ratio of 34.57. Beneficial Bancorp has a 12 month low of $14.30 and a 12 month high of $17.50.
Beneficial Bancorp (NASDAQ:BNCL) last posted its quarterly earnings data on Thursday, February 1st. The bank reported $0.13 EPS for the quarter, topping analysts' consensus estimates of $0.12 by $0.01. The business had revenue of $52.12 million for the quarter, compared to analyst estimates of $46.17 million. Beneficial Bancorp had a return on equity of 3.39% and a net margin of 15.74%. During the same period in the previous year, the company posted $0.10 earnings per share.
A number of research firms have recently commented on BNCL. Keefe, Bruyette & Woods reiterated a "hold" rating and issued a $17.00 price objective on shares of Beneficial Bancorp in a research note on Friday, October 20th. BidaskClub lowered Beneficial Bancorp from a "hold" rating to a "sell" rating in a research note on Friday, January 26th.
In related news, Director Frank Farnesi sold 11,019 shares of the business's stock in a transaction dated Wednesday, January 10th. The stock was sold at an average price of $16.66, for a total transaction of $183,576.54. The sale was disclosed in a document filed with the SEC, which is available through this link. Also, EVP Pam Cyr sold 4,000 shares of the business's stock in a transaction dated Wednesday, November 29th. The shares were sold at an average price of $17.15, for a total value of $68,600.00. The disclosure for this sale can be found here. Insiders own 5.80% of the company's stock.
ILLEGAL ACTIVITY NOTICE: This report was first posted by American Banking News and is the property of of American Banking News. If you are reading this report on another domain, it was stolen and republished in violation of international copyright law. The original version of this report can be read at https://www.americanbankingnews.com/2018/02/02/beneficial-bancorp-inc-plans-dividend-of-0-06-bncl.html.
Beneficial Bancorp Company Profile
Beneficial Mutual Bancorp, Inc is a savings and loan holding company. The Company's business activities are the ownership of Beneficial Bank (the Bank). The Bank has also operated under the name Beneficial Mutual Savings Bank. The Bank is a Pennsylvania chartered savings bank. It attracts deposits from the general public and uses those funds to originate a variety of loans, including commercial real estate loans, consumer loans, home equity loans, one- to four-family real estate loans, commercial business loans and construction loans.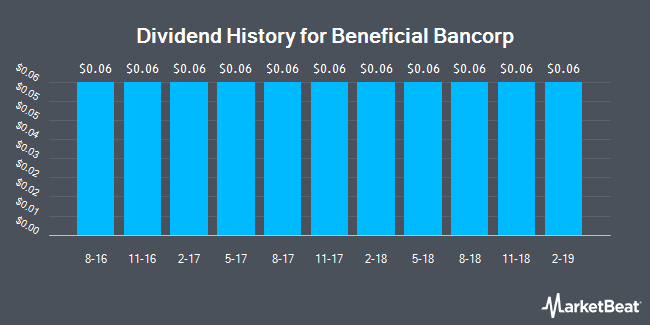 Receive News & Ratings for Beneficial Bancorp Daily - Enter your email address below to receive a concise daily summary of the latest news and analysts' ratings for Beneficial Bancorp and related companies with MarketBeat.com's FREE daily email newsletter.