Doubleline Opportunistic Credit Fund (NYSE:DBL) announced a monthly dividend on Thursday, February 1st, Zacks reports. Investors of record on Thursday, February 15th will be paid a dividend of 0.167 per share by the investment management company on Wednesday, February 28th. This represents a $2.00 annualized dividend and a dividend yield of 9.24%. The ex-dividend date of this dividend is Wednesday, February 14th.
Shares of Doubleline Opportunistic Credit Fund (DBL) opened at $21.69 on Friday. Doubleline Opportunistic Credit Fund has a fifty-two week low of $21.18 and a fifty-two week high of $26.09.
COPYRIGHT VIOLATION WARNING: "Doubleline Opportunistic Credit Fund (DBL) Announces $0.17 Monthly Dividend" was published by American Banking News and is owned by of American Banking News. If you are reading this report on another publication, it was illegally stolen and reposted in violation of U.S. & international trademark and copyright law. The correct version of this report can be read at https://www.americanbankingnews.com/2018/02/02/doubleline-opportunistic-credit-fund-dbl-announces-0-17-monthly-dividend.html.
Doubleline Opportunistic Credit Fund Company Profile
DoubleLine Opportunistic Credit Fund is a non-diversified closed-end management investment company. The Fund's investment objective is to seek high total investment return by providing a high level of current income and the potential for capital appreciation. The Fund may invest in debt securities and income-producing investments of any kind, including, without limitation, residential and commercial mortgage-backed securities, asset-backed securities, the United States Government securities, corporate debt, international sovereign debt and short-term investments.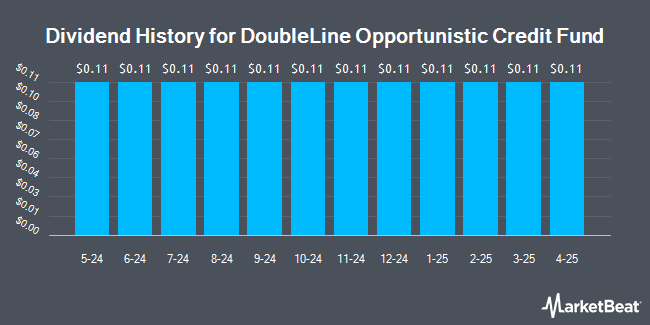 Receive News & Ratings for Doubleline Opportunistic Credit Fund Daily - Enter your email address below to receive a concise daily summary of the latest news and analysts' ratings for Doubleline Opportunistic Credit Fund and related companies with MarketBeat.com's FREE daily email newsletter.