Shares of Enquest Plc (LON:ENQ) have been given an average recommendation of "Hold" by the seven analysts that are presently covering the firm, MarketBeat.com reports. Three equities research analysts have rated the stock with a sell rating and four have given a hold rating to the company. The average 1-year target price among brokerages that have issued ratings on the stock in the last year is GBX 27.20 ($0.38).
Several brokerages recently weighed in on ENQ. Barclays reissued an "underweight" rating and issued a GBX 27 ($0.38) target price on shares of Enquest in a research note on Wednesday. Whitman Howard reaffirmed a "hold" rating on shares of Enquest in a research note on Wednesday, January 24th. Finally, Jefferies Group upped their price objective on shares of Enquest from GBX 23 ($0.32) to GBX 27 ($0.38) and gave the company a "hold" rating in a research note on Wednesday, December 20th.
Shares of Enquest (ENQ) traded down GBX 1.65 ($0.02) during mid-day trading on Friday, reaching GBX 38 ($0.53). 5,438,406 shares of the company traded hands, compared to its average volume of 6,470,000. Enquest has a 12-month low of GBX 22.50 ($0.32) and a 12-month high of GBX 51.25 ($0.72). The firm has a market cap of $448.38 and a P/E ratio of 760.00.
COPYRIGHT VIOLATION WARNING: This news story was originally published by American Banking News and is the sole property of of American Banking News. If you are accessing this news story on another site, it was stolen and republished in violation of United States and international copyright law. The original version of this news story can be read at https://www.americanbankingnews.com/2018/02/02/enquest-plc-enq-given-consensus-recommendation-of-hold-by-brokerages.html.
About Enquest
EnQuest PLC is a United Kingdom-based oil and gas development and production company. The Company's principal activities are the exploration for, and extraction and production of, hydrocarbons in the United Kingdom Continental Shelf and Malaysia. The Company focuses on maturing assets and undeveloped oil fields.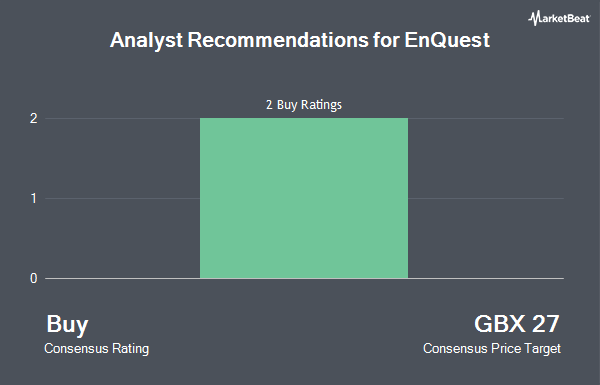 Receive News & Ratings for Enquest Daily - Enter your email address below to receive a concise daily summary of the latest news and analysts' ratings for Enquest and related companies with MarketBeat.com's FREE daily email newsletter.