JD Sports Fashion PLC (LON:JD) has received an average rating of "Buy" from the five brokerages that are covering the company, MarketBeat Ratings reports. Five equities research analysts have rated the stock with a buy rating. The average 1 year price objective among analysts that have issued a report on the stock in the last year is GBX 493.33 ($6.93).
JD has been the topic of a number of research reports. Barclays reaffirmed an "overweight" rating and set a GBX 505 ($7.09) target price on shares of JD Sports Fashion in a research report on Wednesday, January 17th. Shore Capital reissued a "buy" rating on shares of JD Sports Fashion in a report on Thursday. Finally, Peel Hunt reissued a "buy" rating and set a GBX 500 ($7.02) price objective on shares of JD Sports Fashion in a report on Tuesday, December 5th.
JD Sports Fashion (JD) opened at GBX 370 ($5.20) on Friday. The company has a market cap of $3,640.00 and a P/E ratio of 1,761.90. JD Sports Fashion has a 1 year low of GBX 300.20 ($4.22) and a 1 year high of GBX 462 ($6.49).
COPYRIGHT VIOLATION NOTICE: "JD Sports Fashion PLC (JD) Receives Consensus Recommendation of "Buy" from Brokerages" was first reported by American Banking News and is the sole property of of American Banking News. If you are viewing this article on another publication, it was illegally stolen and reposted in violation of United States and international trademark & copyright laws. The legal version of this article can be read at https://www.americanbankingnews.com/2018/02/02/jd-sports-fashion-plc-jd-receives-consensus-recommendation-of-buy-from-brokerages.html.
About JD Sports Fashion
JD Sports Fashion Plc is a multichannel retailer of sports fashion and outdoor brands. The Company's segments are Sports Fashion and Outdoor. The Company's sports fashion brands include JD, Size?, Chausport, Sprinter, Getthelabel.com, Kooga, Kukri Sports, Source Lab, Scotts, Tessuti, Cloggs, JD Gyms and Nicholas Deakins.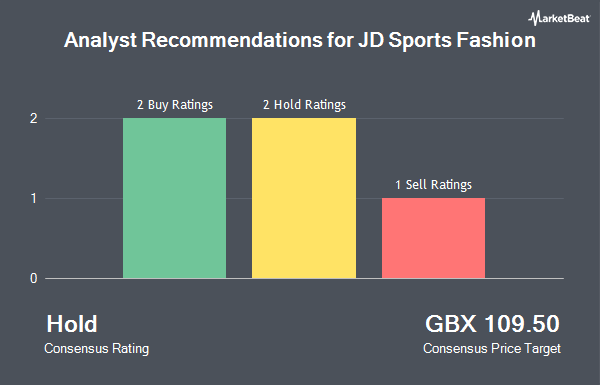 Receive News & Ratings for JD Sports Fashion Daily - Enter your email address below to receive a concise daily summary of the latest news and analysts' ratings for JD Sports Fashion and related companies with MarketBeat.com's FREE daily email newsletter.