Ecology and Environment (NASDAQ:EEI) declared a Semi-Annual dividend on Wednesday, January 31st, Zacks reports. Shareholders of record on Friday, February 9th will be paid a dividend of 0.20 per share by the industrial products company on Friday, February 16th. This represents a yield of 0.0184331797235023%. The ex-dividend date is Thursday, February 8th.
Ecology and Environment (NASDAQ EEI) remained flat at $$10.85 during trading hours on Friday. 6,877 shares of the stock traded hands, compared to its average volume of 3,940. Ecology and Environment has a twelve month low of $9.45 and a twelve month high of $13.06. The firm has a market cap of $46.67, a P/E ratio of 17.50 and a beta of -0.42.
Ecology and Environment (NASDAQ:EEI) last released its quarterly earnings data on Wednesday, November 15th. The industrial products company reported $0.51 earnings per share for the quarter. Ecology and Environment had a return on equity of 6.89% and a net margin of 2.51%. The business had revenue of $29.89 million for the quarter.
Separately, TheStreet upgraded Ecology and Environment from a "c+" rating to a "b" rating in a report on Thursday, December 7th.
COPYRIGHT VIOLATION WARNING: This article was posted by American Banking News and is the property of of American Banking News. If you are reading this article on another domain, it was stolen and republished in violation of U.S. & international copyright and trademark laws. The original version of this article can be accessed at https://www.americanbankingnews.com/2018/02/03/ecology-and-environment-eei-plans-0-20-semi-annual-dividend.html.
About Ecology and Environment
Ecology and Environment, Inc (EEI) is an environmental consulting company. The Company's business segments include EEI and its subsidiaries located in the United States, Subsidiaries located in South America and Other foreign subsidiaries. The Company offers consulting services to commercial and government clients in a range of service sectors, which include Government START Contract; Government Task Order Contracts; Energy; Natural Resource Management and Restoration; Sustainability, Resiliency, and Climate Adaptation; Water Resources; Planning; Emergency Planning and Management; Hazardous and Radioactive Material Services; International; Regulatory Compliance, and Contract Backlog.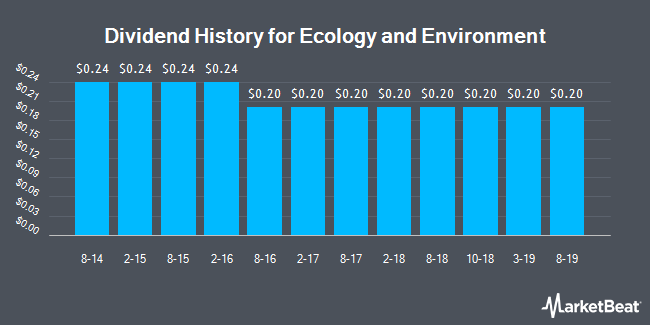 Receive News & Ratings for Ecology and Environment Daily - Enter your email address below to receive a concise daily summary of the latest news and analysts' ratings for Ecology and Environment and related companies with MarketBeat.com's FREE daily email newsletter.