ICICI Bank Ltd (NYSE:IBN) – Equities researchers at Jefferies Group upped their FY2020 earnings per share estimates for shares of ICICI Bank in a research note issued on Wednesday. Jefferies Group analyst N. Karfa now expects that the bank will earn $0.82 per share for the year, up from their prior forecast of $0.81. Jefferies Group has a "Buy" rating on the stock.
A number of other analysts have also recently weighed in on the stock. Zacks Investment Research raised shares of ICICI Bank from a "hold" rating to a "buy" rating and set a $11.00 price objective on the stock in a report on Monday, January 8th. Morgan Stanley raised shares of ICICI Bank from an "underweight" rating to an "overweight" rating in a report on Wednesday, October 25th. Two investment analysts have rated the stock with a hold rating, four have assigned a buy rating and one has given a strong buy rating to the stock. The stock has an average rating of "Buy" and an average price target of $11.00.
Shares of ICICI Bank (
IBN
) opened at $10.30 on Monday. ICICI Bank has a twelve month low of $7.35 and a twelve month high of $11.26. The firm has a market cap of $32,995.66, a PE ratio of 25.75, a P/E/G ratio of 1.22 and a beta of 1.80.
Institutional investors have recently added to or reduced their stakes in the business. Archford Capital Strategies LLC increased its stake in ICICI Bank by 8,057.4% during the 2nd quarter. Archford Capital Strategies LLC now owns 9,381 shares of the bank's stock valued at $562,000 after buying an additional 9,266 shares during the period. SeaCrest Wealth Management LLC acquired a new position in ICICI Bank during the 4th quarter valued at about $107,000. Beacon Investment Advisory Services Inc. acquired a new position in ICICI Bank during the 3rd quarter valued at about $100,000. Fox Run Management L.L.C. acquired a new position in ICICI Bank during the 4th quarter valued at about $120,000. Finally, Teacher Retirement System of Texas acquired a new position in ICICI Bank during the 3rd quarter valued at about $110,000. 21.98% of the stock is currently owned by hedge funds and other institutional investors.
TRADEMARK VIOLATION WARNING: "Jefferies Group Comments on ICICI Bank Ltd's FY2020 Earnings (IBN)" was published by American Banking News and is the property of of American Banking News. If you are accessing this report on another publication, it was illegally copied and reposted in violation of U.S. & international copyright & trademark laws. The original version of this report can be read at https://www.americanbankingnews.com/2018/02/05/jefferies-group-comments-on-icici-bank-ltds-fy2020-earnings-ibn.html.
ICICI Bank Company Profile
ICICI Bank Limited is a banking company. The Bank is engaged in providing a range of banking and financial services, including commercial banking, retail banking, project and corporate finance, working capital finance, insurance, venture capital and private equity, investment banking, broking and treasury products and services.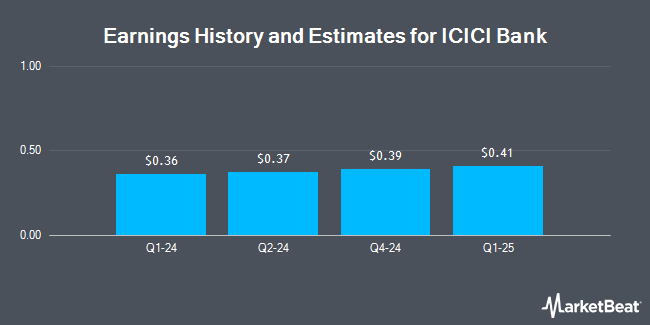 Receive News & Ratings for ICICI Bank Daily - Enter your email address below to receive a concise daily summary of the latest news and analysts' ratings for ICICI Bank and related companies with MarketBeat.com's FREE daily email newsletter.