Pitney Bowes Inc. (NYSE:PBI) announced a quarterly dividend on Monday, February 5th, RTT News reports. Investors of record on Friday, February 16th will be paid a dividend of 0.1875 per share by the technology company on Monday, March 12th. This represents a $0.75 annualized dividend and a dividend yield of 5.93%.
Pitney Bowes has a payout ratio of 54.3% indicating that its dividend is sufficiently covered by earnings. Analysts expect Pitney Bowes to earn $1.50 per share next year, which means the company should continue to be able to cover its $0.75 annual dividend with an expected future payout ratio of 50.0%.
Shares of Pitney Bowes (NYSE:PBI) traded down $0.35 during mid-day trading on Monday, hitting $12.64. 3,230,000 shares of the company traded hands, compared to its average volume of 2,300,000. The company has a market cap of $2,360.00, a P/E ratio of 8.96 and a beta of 1.05. The company has a quick ratio of 1.24, a current ratio of 1.28 and a debt-to-equity ratio of 18.34. Pitney Bowes has a 1-year low of $9.50 and a 1-year high of $16.25.
Pitney Bowes (NYSE:PBI) last posted its quarterly earnings data on Wednesday, January 31st. The technology company reported $0.40 earnings per share (EPS) for the quarter, beating the Zacks' consensus estimate of $0.37 by $0.03. The firm had revenue of $1.05 billion during the quarter, compared to the consensus estimate of $1.04 billion. Pitney Bowes had a net margin of 7.36% and a return on equity of 379.85%. The business's revenue for the quarter was up 18.3% compared to the same quarter last year. During the same quarter in the previous year, the firm posted $0.53 EPS. equities research analysts anticipate that Pitney Bowes will post 1.48 earnings per share for the current fiscal year.
A number of research firms have issued reports on PBI. Zacks Investment Research downgraded shares of Pitney Bowes from a "hold" rating to a "strong sell" rating in a report on Monday, November 6th. Loop Capital cut their price objective on shares of Pitney Bowes from $14.00 to $12.00 and set a "hold" rating for the company in a report on Thursday, November 2nd. Finally, ValuEngine downgraded shares of Pitney Bowes from a "buy" rating to a "hold" rating in a report on Sunday, December 31st. One equities research analyst has rated the stock with a sell rating, four have given a hold rating and one has given a buy rating to the company's stock. Pitney Bowes presently has an average rating of "Hold" and an average price target of $14.50.
TRADEMARK VIOLATION NOTICE: This news story was reported by American Banking News and is the property of of American Banking News. If you are reading this news story on another publication, it was illegally stolen and republished in violation of United States & international copyright & trademark law. The correct version of this news story can be viewed at https://www.americanbankingnews.com/2018/02/05/pitney-bowes-inc-pbi-announces-0-19-quarterly-dividend.html.
Pitney Bowes Company Profile
Pitney Bowes Inc is a global technology company. The Company offers customer information management, location intelligence and customer engagement products and solutions to help its clients market to their customers, and shipping, mailing, and cross border e-commerce products and solutions that enable the sending of parcels and packages across the globe.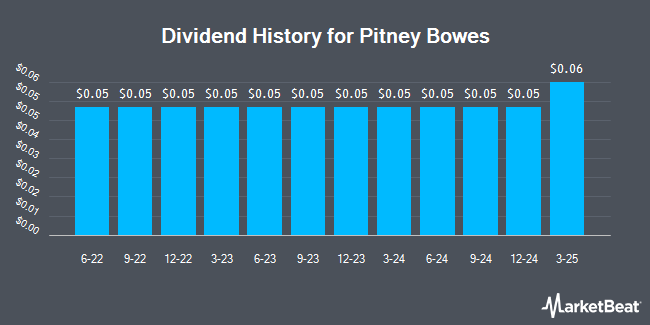 Receive News & Ratings for Pitney Bowes Daily - Enter your email address below to receive a concise daily summary of the latest news and analysts' ratings for Pitney Bowes and related companies with MarketBeat.com's FREE daily email newsletter.