Akzo Nobel (OTCMKTS:AKZOY) has received a consensus rating of "Hold" from the eight brokerages that are presently covering the stock, Marketbeat Ratings reports. Six equities research analysts have rated the stock with a hold recommendation and two have issued a buy recommendation on the company.
A number of brokerages recently weighed in on AKZOY. ValuEngine raised Akzo Nobel from a "hold" rating to a "buy" rating in a research note on Friday. Zacks Investment Research cut Akzo Nobel from a "buy" rating to a "hold" rating in a research note on Friday, January 5th.
Akzo Nobel (AKZOY) opened at $29.91 on Tuesday. The firm has a market capitalization of $23,332.61, a PE ratio of 23.01, a P/E/G ratio of 1.87 and a beta of 1.17. Akzo Nobel has a 12 month low of $21.82 and a 12 month high of $31.75. The company has a debt-to-equity ratio of 0.39, a current ratio of 1.40 and a quick ratio of 1.01.
ILLEGAL ACTIVITY NOTICE: This report was originally posted by American Banking News and is owned by of American Banking News. If you are accessing this report on another website, it was illegally copied and reposted in violation of United States & international copyright and trademark law. The legal version of this report can be read at https://www.americanbankingnews.com/2018/02/06/akzo-nobel-akzoy-receives-average-rating-of-hold-from-analysts.html.
About Akzo Nobel
Akzo Nobel N.V. is a paints and coatings company, and a producer of specialty chemicals. The Company's segments include Decorative Paints, Performance Coatings, Paints and Coatings, and Specialty Chemicals. The Decorative Paints segment's business operations include Decorative Paints Europe, Middle East and Africa; Decorative Paints Asia, and Decorative Paints Latin America.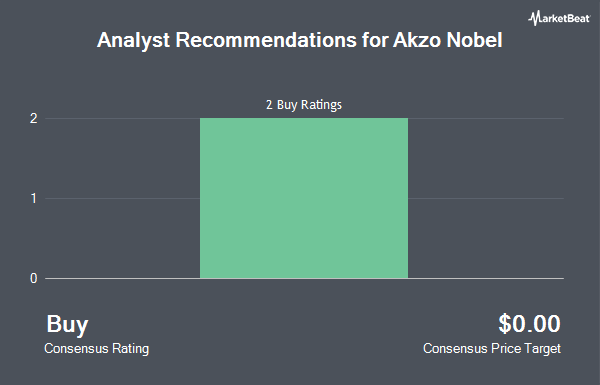 Receive News & Ratings for Akzo Nobel Daily - Enter your email address below to receive a concise daily summary of the latest news and analysts' ratings for Akzo Nobel and related companies with MarketBeat.com's FREE daily email newsletter.