Nelnet, Inc. (NYSE:NNI) announced a quarterly dividend on Tuesday, February 6th, Wall Street Journal reports. Investors of record on Thursday, March 1st will be given a dividend of 0.16 per share by the credit services provider on Thursday, March 15th. This represents a $0.64 dividend on an annualized basis and a dividend yield of 1.27%. The ex-dividend date is Wednesday, February 28th.
Nelnet has raised its dividend payment by an average of 13.2% per year over the last three years and has raised its dividend every year for the last 2 years.
Nelnet (NYSE:NNI) traded up $0.30 during trading hours on Tuesday, hitting $50.23. 124,427 shares of the company were exchanged, compared to its average volume of 86,393. The company has a debt-to-equity ratio of 10.44, a current ratio of 159.08 and a quick ratio of 159.08. The company has a market cap of $2,115.01, a PE ratio of 9.50 and a beta of 0.96. Nelnet has a 52 week low of $38.72 and a 52 week high of $59.68.
Nelnet (NYSE:NNI) last posted its quarterly earnings results on Tuesday, November 7th. The credit services provider reported $1.00 EPS for the quarter, missing analysts' consensus estimates of $1.10 by ($0.10). The company had revenue of $194.43 million during the quarter, compared to the consensus estimate of $191.00 million. Nelnet had a return on equity of 8.70% and a net margin of 17.51%. The company's revenue for the quarter was down 18.6% compared to the same quarter last year. During the same period last year, the firm posted $1.36 EPS.
In other Nelnet news, major shareholder Angie Muhleisen sold 2,000 shares of the business's stock in a transaction on Tuesday, January 23rd. The shares were sold at an average price of $52.56, for a total transaction of $105,120.00. The sale was disclosed in a legal filing with the SEC, which is accessible through this hyperlink. Also, Director Michael D. Reardon sold 5,748 shares of the business's stock in a transaction on Monday, November 13th. The shares were sold at an average price of $50.84, for a total transaction of $292,228.32. The disclosure for this sale can be found here. Insiders have sold a total of 11,748 shares of company stock worth $609,348 in the last three months. Insiders own 46.10% of the company's stock.
NNI has been the topic of a number of research reports. Credit Suisse Group lifted their price target on shares of Nelnet from $50.00 to $55.00 and gave the stock a "neutral" rating in a report on Friday, October 20th. Compass Point raised shares of Nelnet from a "neutral" rating to a "buy" rating in a report on Thursday, October 19th.
ILLEGAL ACTIVITY WARNING: This piece was reported by American Banking News and is owned by of American Banking News. If you are reading this piece on another publication, it was stolen and republished in violation of US & international trademark & copyright laws. The correct version of this piece can be viewed at https://www.americanbankingnews.com/2018/02/06/nelnet-inc-nni-declares-0-16-quarterly-dividend.html.
Nelnet Company Profile
Nelnet, Inc focuses on delivering education-related products and services and student loan asset management. The Company is engaged in student loan servicing, tuition payment processing and school information systems, and communications. The Company's segments include Loan Systems and Servicing, Tuition Payment Processing and Campus Commerce, Communications, Asset Generation and Management, and Corporate and Other Activities.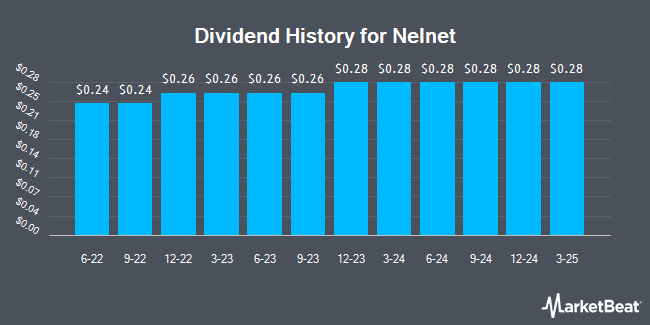 Receive News & Ratings for Nelnet Daily - Enter your email address below to receive a concise daily summary of the latest news and analysts' ratings for Nelnet and related companies with MarketBeat.com's FREE daily email newsletter.