Shares of Premier Oil PLC (LON:PMO) have earned an average recommendation of "Hold" from the nine ratings firms that are presently covering the stock, Marketbeat.com reports. Three investment analysts have rated the stock with a sell recommendation, three have given a hold recommendation and three have issued a buy recommendation on the company. The average twelve-month target price among brokers that have issued ratings on the stock in the last year is GBX 87.50 ($1.23).
Several equities analysts recently weighed in on PMO shares. Jefferies Group increased their target price on Premier Oil from GBX 90 ($1.26) to GBX 110 ($1.54) and gave the stock a "buy" rating in a research report on Wednesday, December 20th. Credit Suisse Group reiterated an "underperform" rating and set a GBX 60 ($0.84) target price on shares of Premier Oil in a research report on Thursday, December 7th. Peel Hunt reiterated a "buy" rating and set a GBX 100 ($1.40) target price on shares of Premier Oil in a research report on Thursday, November 16th. Deutsche Bank reiterated a "hold" rating and set a GBX 67 ($0.94) target price on shares of Premier Oil in a research report on Tuesday, November 7th. Finally, Barclays downgraded Premier Oil to an "underweight" rating and reduced their target price for the stock from GBX 72 ($1.01) to GBX 70 ($0.98) in a research report on Tuesday, November 21st.
In related news, insider Roy A. Franklin bought 60,000 shares of the stock in a transaction dated Wednesday, January 31st. The stock was acquired at an average price of GBX 83 ($1.16) per share, for a total transaction of £49,800 ($69,826.14). Over the last 90 days, insiders bought 60,378 shares of company stock worth $5,007,378.
Premier Oil (
LON PMO
) traded down GBX 3.85 ($0.05) during midday trading on Tuesday, reaching GBX 78.65 ($1.10). The company had a trading volume of 10,444,820 shares, compared to its average volume of 10,370,000. Premier Oil has a 1 year low of GBX 42.75 ($0.60) and a 1 year high of GBX 104.56 ($1.47).
ILLEGAL ACTIVITY WARNING: This news story was originally published by American Banking News and is owned by of American Banking News. If you are accessing this news story on another website, it was copied illegally and republished in violation of US and international copyright and trademark legislation. The correct version of this news story can be viewed at https://www.americanbankingnews.com/2018/02/06/premier-oil-plc-pmo-given-consensus-rating-of-hold-by-analysts.html.
Premier Oil Company Profile
Premier Oil plc is an independent exploration and production company with oil and gas interests in the North Sea, South East Asia, Pakistan, the Falkland Islands and Latin America. The Company is engaged in the business of upstream oil and gas exploration and production. The Company's operations are located and managed in six business units: the Falkland Islands, Indonesia, Pakistan (including Mauritania), the United Kingdom, Vietnam and the Rest of the World.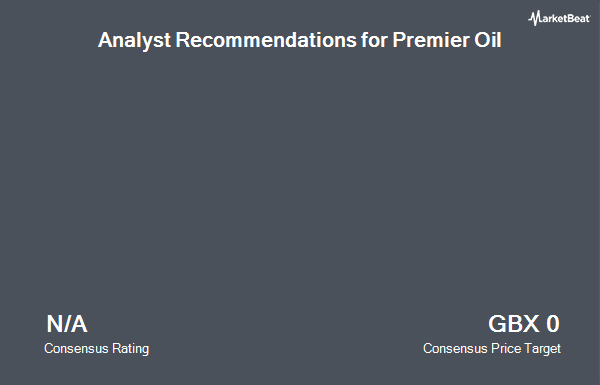 Receive News & Ratings for Premier Oil Daily - Enter your email address below to receive a concise daily summary of the latest news and analysts' ratings for Premier Oil and related companies with MarketBeat.com's FREE daily email newsletter.