ConvaTec Group (LON:CTEC) was upgraded by investment analysts at Numis Securities to a "hold" rating in a note issued to investors on Wednesday. The brokerage presently has a GBX 180 ($2.52) target price on the stock. Numis Securities' price objective suggests a potential downside of 8.16% from the company's previous close.
Several other analysts have also commented on CTEC. Peel Hunt reaffirmed a "hold" rating and issued a GBX 250 ($3.51) price target on shares of ConvaTec Group in a research note on Thursday, February 1st. Citigroup reaffirmed a "neutral" rating and issued a GBX 290 ($4.07) price target on shares of ConvaTec Group in a research note on Wednesday, October 11th. Credit Suisse Group decreased their price target on ConvaTec Group from GBX 280 ($3.93) to GBX 225 ($3.15) and set a "neutral" rating on the stock in a research note on Tuesday, October 17th. Deutsche Bank reaffirmed a "sell" rating and issued a GBX 180 ($2.52) price target on shares of ConvaTec Group in a research note on Friday, December 1st. Finally, lowered ConvaTec Group to a "hold" rating and decreased their price target for the company from GBX 345 ($4.84) to GBX 240 ($3.37) in a research note on Tuesday, October 17th. One research analyst has rated the stock with a sell rating, seven have given a hold rating and two have issued a buy rating to the company. The company presently has a consensus rating of "Hold" and an average price target of GBX 245.78 ($3.45).
Shares of ConvaTec Group (CTEC) opened at GBX 196 ($2.75) on Wednesday. The stock has a market capitalization of $3,840.00 and a P/E ratio of -1,781.82. ConvaTec Group has a 1 year low of GBX 181.40 ($2.54) and a 1 year high of GBX 349.10 ($4.89).
In other ConvaTec Group news, insider Ros Rivaz acquired 4,821 shares of ConvaTec Group stock in a transaction on Wednesday, December 6th. The shares were bought at an average price of GBX 206 ($2.89) per share, with a total value of £9,931.26 ($13,924.93).
ILLEGAL ACTIVITY NOTICE: This piece was reported by American Banking News and is the sole property of of American Banking News. If you are accessing this piece on another publication, it was copied illegally and republished in violation of U.S. and international copyright & trademark law. The legal version of this piece can be viewed at https://www.americanbankingnews.com/2018/02/07/convatec-group-ctec-upgraded-to-hold-at-numis-securities.html.
ConvaTec Group Company Profile
ConvaTec Group Plc is a medical product and technology company. The Company focuses on therapies for the management of chronic conditions, including products used for advanced chronic and acute wound care, ostomy care, continence and critical care and infusion devices used in the treatment of diabetes and other conditions.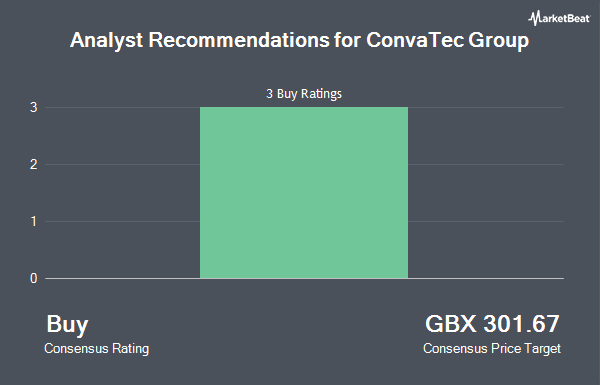 Receive News & Ratings for ConvaTec Group Daily - Enter your email address below to receive a concise daily summary of the latest news and analysts' ratings for ConvaTec Group and related companies with MarketBeat.com's FREE daily email newsletter.