Eversource Energy (NYSE:ES) declared a quarterly dividend on Wednesday, February 7th, RTT News reports. Shareholders of record on Tuesday, March 6th will be given a dividend of 0.505 per share by the utilities provider on Friday, March 30th. This represents a $2.02 annualized dividend and a yield of 3.55%. This is a positive change from Eversource Energy's previous quarterly dividend of $0.48.
Eversource Energy has a payout ratio of 60.5% meaning its dividend is sufficiently covered by earnings. Equities analysts expect Eversource Energy to earn $3.33 per share next year, which means the company should continue to be able to cover its $1.90 annual dividend with an expected future payout ratio of 57.1%.
Shares of Eversource Energy (NYSE:ES) traded down $0.65 during trading hours on Wednesday, hitting $56.89. The stock had a trading volume of 3,217,674 shares, compared to its average volume of 2,870,000. The stock has a market cap of $18,030.00, a price-to-earnings ratio of 18.47, a price-to-earnings-growth ratio of 2.93 and a beta of 0.27. The company has a debt-to-equity ratio of 0.95, a current ratio of 0.92 and a quick ratio of 0.80. Eversource Energy has a fifty-two week low of $55.20 and a fifty-two week high of $66.15.
In related news, COO Werner J. Schweiger sold 10,098 shares of the company's stock in a transaction that occurred on Thursday, November 9th. The stock was sold at an average price of $64.68, for a total value of $653,138.64. The transaction was disclosed in a document filed with the SEC, which is accessible through
this hyperlink
. 0.53% of the stock is currently owned by corporate insiders.
Several equities research analysts have recently commented on the company. Bank of America decreased their price target on Eversource Energy from $64.00 to $59.00 and set an "underperform" rating on the stock in a research note on Friday, February 2nd. Morgan Stanley raised Eversource Energy from an "equal weight" rating to an "overweight" rating and set a $72.00 price target on the stock in a research note on Wednesday, December 13th. Guggenheim reissued a "buy" rating and set a $64.00 price target on shares of Eversource Energy in a research note on Friday, February 2nd. UBS Group assumed coverage on Eversource Energy in a research note on Friday, February 2nd. They set a "neutral" rating and a $66.00 price target on the stock. Finally, Janney Montgomery Scott lowered Eversource Energy from a "buy" rating to a "neutral" rating in a research note on Friday, February 2nd. Three investment analysts have rated the stock with a sell rating, seven have given a hold rating and three have issued a buy rating to the stock. The stock has an average rating of "Hold" and an average price target of $63.63.
ILLEGAL ACTIVITY NOTICE: "Eversource Energy (ES) Plans Dividend Increase – $0.51 Per Share" was reported by American Banking News and is the sole property of of American Banking News. If you are accessing this story on another website, it was stolen and reposted in violation of U.S. & international copyright legislation. The legal version of this story can be viewed at https://www.americanbankingnews.com/2018/02/07/eversource-energy-es-plans-dividend-increase-0-51-per-share.html.
Eversource Energy Company Profile
Eversource Energy is a utility holding company engaged in the energy delivery business. The Company operates through three segments: electric distribution, electric transmission and natural gas distribution. The Company's electric distribution segment consists of the distribution businesses, which are engaged in the distribution of electricity to retail customers in Connecticut, Massachusetts, and New Hampshire and the regulated electric generation businesses.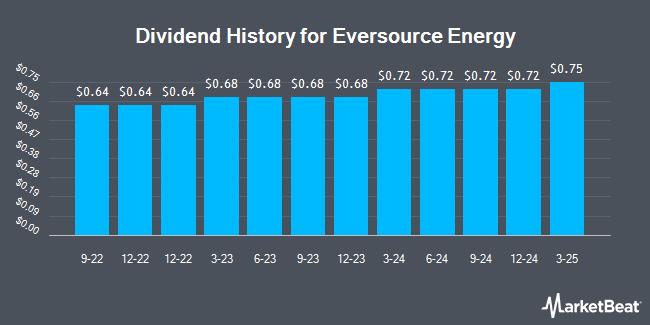 Receive News & Ratings for Eversource Energy Daily - Enter your email address below to receive a concise daily summary of the latest news and analysts' ratings for Eversource Energy and related companies with MarketBeat.com's FREE daily email newsletter.