Ingersoll-Rand PLC (NYSE:IR) announced a quarterly dividend on Wednesday, February 7th, RTT News reports. Stockholders of record on Friday, March 9th will be paid a dividend of 0.45 per share by the industrial products company on Friday, March 30th. This represents a $1.80 dividend on an annualized basis and a dividend yield of 1.96%.
Ingersoll-Rand has raised its dividend payment by an average of 19.3% annually over the last three years and has increased its dividend annually for the last 7 consecutive years. Ingersoll-Rand has a payout ratio of 39.9% meaning its dividend is sufficiently covered by earnings. Equities analysts expect Ingersoll-Rand to earn $5.75 per share next year, which means the company should continue to be able to cover its $1.80 annual dividend with an expected future payout ratio of 31.3%.
Shares of Ingersoll-Rand (NYSE:IR) opened at $91.75 on Wednesday. The company has a market capitalization of $22,620.54, a PE ratio of 18.10, a PEG ratio of 1.91 and a beta of 1.33. Ingersoll-Rand has a twelve month low of $77.26 and a twelve month high of $97.67. The company has a quick ratio of 0.95, a current ratio of 1.27 and a debt-to-equity ratio of 0.41.
Ingersoll-Rand (NYSE:IR) last issued its quarterly earnings results on Wednesday, January 31st. The industrial products company reported $1.02 EPS for the quarter, missing analysts' consensus estimates of $1.03 by ($0.01). The firm had revenue of $3.62 billion during the quarter, compared to the consensus estimate of $3.52 billion. Ingersoll-Rand had a net margin of 9.17% and a return on equity of 16.91%. The business's revenue for the quarter was up 7.7% on a year-over-year basis. During the same quarter last year, the firm earned $0.84 earnings per share. sell-side analysts anticipate that Ingersoll-Rand will post 5.17 EPS for the current year.
Several analysts recently issued reports on IR shares. Argus upped their target price on Ingersoll-Rand to $105.00 and gave the stock a "buy" rating in a report on Tuesday. BMO Capital Markets upped their target price on Ingersoll-Rand to $115.00 and gave the stock an "outperform" rating in a report on Friday, February 2nd. Stifel Nicolaus upped their target price on Ingersoll-Rand from $101.00 to $112.00 and gave the stock a "buy" rating in a report on Thursday, February 1st. Zacks Investment Research lowered Ingersoll-Rand from a "buy" rating to a "hold" rating in a report on Tuesday, January 23rd. Finally, UBS Group started coverage on Ingersoll-Rand in a report on Monday, January 22nd. They set a "buy" rating and a $105.00 target price on the stock. One analyst has rated the stock with a sell rating, ten have given a hold rating and eight have given a buy rating to the stock. The stock currently has an average rating of "Hold" and an average price target of $102.92.
In other Ingersoll-Rand news, Chairman Michael W. Lamach sold 210,508 shares of the company's stock in a transaction that occurred on Tuesday, January 2nd. The stock was sold at an average price of $88.28, for a total value of $18,583,646.24. The transaction was disclosed in a document filed with the SEC, which is accessible through this link. 0.63% of the stock is owned by corporate insiders.
COPYRIGHT VIOLATION WARNING: "Ingersoll-Rand PLC (IR) Announces $0.45 Quarterly Dividend" was originally posted by American Banking News and is the sole property of of American Banking News. If you are accessing this article on another site, it was copied illegally and reposted in violation of U.S. & international copyright laws. The correct version of this article can be accessed at https://www.americanbankingnews.com/2018/02/07/ingersoll-rand-plc-ir-announces-0-45-quarterly-dividend.html.
About Ingersoll-Rand
Ingersoll-Rand Public Limited Company provides products, services and solutions to improve the quality and comfort of air in homes and buildings, transport and protect food and perishables. The Company's business segments include Climate and Industrial. It is engaged in the design, manufacture, sale and service of a portfolio of industrial and commercial products that include brand names, such as Ingersoll-Rand, Trane, American Standard, ARO and Club Car.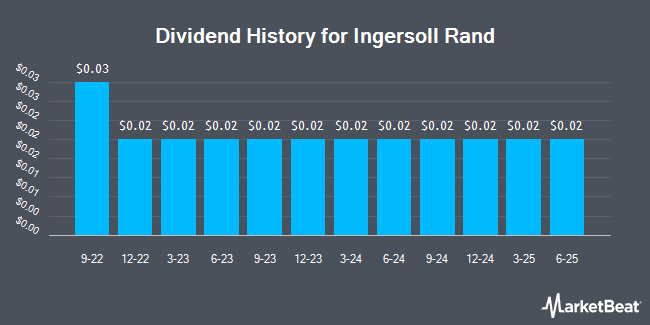 Receive News & Ratings for Ingersoll-Rand Daily - Enter your email address below to receive a concise daily summary of the latest news and analysts' ratings for Ingersoll-Rand and related companies with MarketBeat.com's FREE daily email newsletter.