Limelight Networks (NASDAQ:LLNW) updated its FY18 earnings guidance on Wednesday. The company provided earnings per share (EPS) guidance of $0.11-0.15 for the period, compared to the Thomson Reuters consensus estimate of $0.12. The company issued revenue guidance of $196-200 million, compared to the consensus revenue estimate of $198.91 million.
Several equities research analysts recently commented on the company. Zacks Investment Research upgraded Limelight Networks from a hold rating to a buy rating and set a $5.00 target price on the stock in a report on Friday, October 20th. B. Riley reiterated a buy rating and set a $6.00 target price on shares of Limelight Networks in a report on Monday, December 4th. DA Davidson set a $5.50 target price on Limelight Networks and gave the company a buy rating in a report on Monday, October 16th. Cowen reiterated an outperform rating and set a $6.00 target price (up from $4.00) on shares of Limelight Networks in a report on Thursday, October 19th. Finally, BidaskClub lowered Limelight Networks from a buy rating to a hold rating in a research note on Wednesday, December 27th. Three research analysts have rated the stock with a hold rating and three have issued a buy rating to the company. The company currently has a consensus rating of Buy and an average price target of $5.00.
Shares of Limelight Networks (LLNW) traded down $0.14 during midday trading on Wednesday, reaching $4.32. The company's stock had a trading volume of 1,031,086 shares, compared to its average volume of 704,138. Limelight Networks has a 12-month low of $2.10 and a 12-month high of $6.05. The firm has a market cap of $473.95, a price-to-earnings ratio of -43.20, a PEG ratio of 634.50 and a beta of 2.45.
In other Limelight Networks news, Director Mark J. Midle sold 15,000,000 shares of the firm's stock in a transaction that occurred on Tuesday, December 5th. The stock was sold at an average price of $4.35, for a total transaction of $65,250,000.00. The sale was disclosed in a document filed with the Securities & Exchange Commission, which is accessible through
the SEC website
. 37.60% of the stock is owned by company insiders.
An institutional investor recently raised its position in Limelight Networks stock. The Manufacturers Life Insurance Company lifted its position in Limelight Networks, Inc. (NASDAQ:LLNW) by 4.8% in the 2nd quarter, according to the company in its most recent filing with the Securities and Exchange Commission. The institutional investor owned 66,823 shares of the information services provider's stock after acquiring an additional 3,090 shares during the quarter. The Manufacturers Life Insurance Company owned 0.06% of Limelight Networks worth $193,000 as of its most recent SEC filing. 70.27% of the stock is currently owned by institutional investors and hedge funds.
TRADEMARK VIOLATION NOTICE: "Limelight Networks (LLNW) Releases FY18 Earnings Guidance" was originally posted by American Banking News and is the sole property of of American Banking News. If you are accessing this article on another website, it was copied illegally and republished in violation of US and international copyright and trademark laws. The legal version of this article can be viewed at https://www.americanbankingnews.com/2018/02/07/limelight-networks-llnw-releases-fy18-earnings-guidance.html.
Limelight Networks Company Profile
Limelight Networks, Inc operates a distributed network and provides a suite of integrated services marketed as the Limelight Orchestrate Platform. The Company is engaged in providing content delivery and related services and solutions for global businesses to help them deliver their digital content across Internet, mobile, and social channels.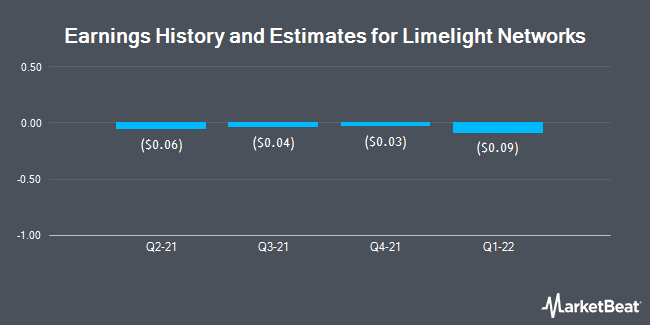 Receive News & Ratings for Limelight Networks Daily - Enter your email address below to receive a concise daily summary of the latest news and analysts' ratings for Limelight Networks and related companies with MarketBeat.com's FREE daily email newsletter.