Redrow (LON:RDW)'s stock had its "buy" rating reiterated by analysts at Canaccord Genuity in a report issued on Wednesday. They currently have a GBX 750 ($10.52) price objective on the stock. Canaccord Genuity's price target would suggest a potential upside of 19.90% from the company's current price.
A number of other equities research analysts have also issued reports on RDW. Liberum Capital restated a "buy" rating and issued a GBX 730 ($10.24) target price on shares of Redrow in a research note on Thursday, February 1st. Peel Hunt upped their target price on shares of Redrow from GBX 740 ($10.38) to GBX 755 ($10.59) and gave the company a "buy" rating in a research note on Wednesday. Shore Capital restated a "hold" rating on shares of Redrow in a research note on Wednesday. Numis Securities upgraded shares of Redrow to a "buy" rating and set a GBX 729 ($10.22) target price on the stock in a research note on Wednesday. Finally, Barclays cut their target price on shares of Redrow from GBX 688 ($9.65) to GBX 650 ($9.11) and set an "equal weight" rating on the stock in a research note on Monday. One research analyst has rated the stock with a sell rating, four have assigned a hold rating and nine have assigned a buy rating to the company. Redrow has an average rating of "Buy" and a consensus target price of GBX 678 ($9.51).
Redrow (RDW) traded up GBX 22.50 ($0.32) during trading hours on Wednesday, reaching GBX 625.50 ($8.77). 1,792,234 shares of the company's stock were exchanged, compared to its average volume of 647,483. The stock has a market cap of $2,310.00 and a PE ratio of 893.57. Redrow has a one year low of GBX 445.30 ($6.24) and a one year high of GBX 673.50 ($9.44).
Redrow (LON:RDW) last issued its earnings results on Wednesday, February 7th. The company reported GBX 39.50 ($0.55) earnings per share (EPS) for the quarter. The business had revenue of £890 million for the quarter. Redrow had a net margin of 15.31% and a return on equity of 24.10%.
COPYRIGHT VIOLATION WARNING: This article was posted by American Banking News and is the sole property of of American Banking News. If you are accessing this article on another domain, it was copied illegally and reposted in violation of U.S. & international trademark & copyright laws. The legal version of this article can be accessed at https://www.americanbankingnews.com/2018/02/07/redrows-rdw-buy-rating-reiterated-at-canaccord-genuity.html.
Redrow Company Profile
Redrow PLC is engaged in residential housing development. The Company is engaged in constructing homes throughout England and Wales. The Company's operations are focused on housebuilding. Its product range is focused on traditional family housing in its regional businesses and apartment schemes in Greater London.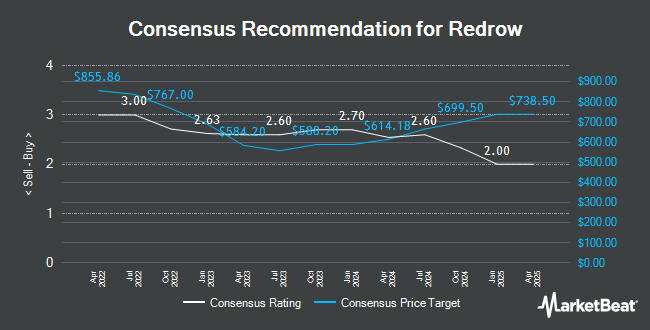 Receive News & Ratings for Redrow Daily - Enter your email address below to receive a concise daily summary of the latest news and analysts' ratings for Redrow and related companies with MarketBeat.com's FREE daily email newsletter.