SunPower (NASDAQ:SPWR) is scheduled to be issuing its quarterly earnings data before the market opens on Wednesday, February 14th. Analysts expect the company to announce earnings of $0.12 per share for the quarter.
SunPower (NASDAQ:SPWR) last released its quarterly earnings results on Thursday, November 2nd. The semiconductor company reported $0.21 EPS for the quarter, topping analysts' consensus estimates of ($0.39) by $0.60. SunPower had a negative net margin of 24.91% and a negative return on equity of 20.81%. The company had revenue of $477.20 million for the quarter, compared to the consensus estimate of $383.76 million. During the same period in the previous year, the firm earned $0.68 EPS. SunPower's revenue was down 34.6% on a year-over-year basis. On average, analysts expect SunPower to post $-1 EPS for the current fiscal year and $0 EPS for the next fiscal year.
Shares of SunPower (NASDAQ:SPWR) opened at $7.05 on Wednesday. SunPower has a 52-week low of $5.84 and a 52-week high of $11.70. The company has a market cap of $983.98, a PE ratio of -1.75 and a beta of 2.73. The company has a debt-to-equity ratio of 1.71, a quick ratio of 1.02 and a current ratio of 1.41.
SPWR has been the topic of a number of recent analyst reports. Robert W. Baird upgraded shares of SunPower from a "neutral" rating to an "outperform" rating and boosted their price target for the stock from $7.00 to $10.00 in a research report on Monday, December 11th. BidaskClub downgraded shares of SunPower from a "buy" rating to a "hold" rating in a research report on Wednesday, December 27th. Bank of America initiated coverage on shares of SunPower in a research report on Saturday, December 30th. They set a "neutral" rating on the stock. Guggenheim restated a "hold" rating on shares of SunPower in a research report on Thursday, January 18th. Finally,
ValuEngine
raised shares of SunPower from a "sell" rating to a "hold" rating in a research note on Saturday, November 4th. Three analysts have rated the stock with a sell rating, seven have given a hold rating and five have issued a buy rating to the company. The company has an average rating of "Hold" and an average target price of $10.06.
In other news, Director Catherine A. Lesjak sold 23,632 shares of SunPower stock in a transaction that occurred on Wednesday, December 6th. The shares were sold at an average price of $7.50, for a total value of $177,240.00. Following the transaction, the director now owns 55,924 shares of the company's stock, valued at approximately $419,430. The sale was disclosed in a filing with the Securities & Exchange Commission, which is accessible through the SEC website. Insiders own 0.92% of the company's stock.
TRADEMARK VIOLATION WARNING: "SunPower (SPWR) Set to Announce Quarterly Earnings on Wednesday" was originally posted by American Banking News and is owned by of American Banking News. If you are viewing this article on another publication, it was illegally stolen and reposted in violation of United States & international trademark and copyright legislation. The original version of this article can be viewed at https://www.americanbankingnews.com/2018/02/07/sunpower-spwr-set-to-announce-quarterly-earnings-on-wednesday.html.
SunPower Company Profile
SunPower Corporation is a global energy company. The Company delivers complete solar solutions to residential, commercial, and power plant customers. The Company's segments include Residential Segment, Commercial Segment and Power Plant Segment. The Residential and Commercial Segments combined are referred to as Distributed Generation.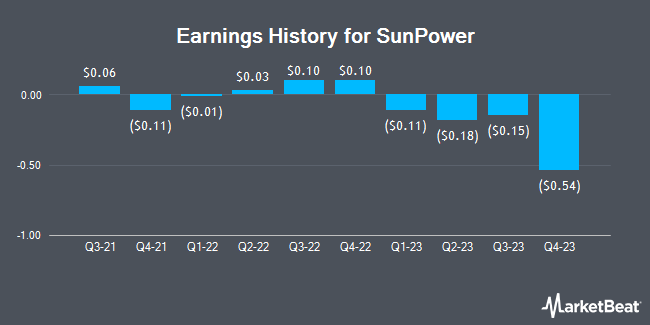 Receive News & Ratings for SunPower Daily - Enter your email address below to receive a concise daily summary of the latest news and analysts' ratings for SunPower and related companies with MarketBeat.com's FREE daily email newsletter.