US Ecology (NASDAQ:ECOL) will issue its quarterly earnings data after the market closes on Wednesday, February 14th. Analysts expect the company to announce earnings of $0.60 per share for the quarter.
US Ecology (NASDAQ:ECOL) opened at $47.85 on Wednesday. US Ecology has a one year low of $44.50 and a one year high of $55.75. The company has a quick ratio of 2.00, a current ratio of 2.00 and a debt-to-equity ratio of 0.94. The company has a market cap of $1,096.83, a price-to-earnings ratio of 39.88 and a beta of 0.72.
The firm also recently announced a quarterly dividend, which was paid on Friday, January 26th. Stockholders of record on Friday, January 19th were paid a $0.18 dividend. This represents a $0.72 dividend on an annualized basis and a dividend yield of 1.50%. The ex-dividend date was Thursday, January 18th. US Ecology's dividend payout ratio is presently 60.00%.
In related news, CEO Jeffrey R. Feeler sold 3,000 shares of US Ecology stock in a transaction on Thursday, December 7th. The shares were sold at an average price of $50.56, for a total transaction of $151,680.00. Following the sale, the chief executive officer now owns 54,925 shares of the company's stock, valued at approximately $2,777,008. The transaction was disclosed in a legal filing with the Securities & Exchange Commission, which is accessible through
this link
. Insiders own 1.50% of the company's stock.
ECOL has been the topic of a number of research reports. Zacks Investment Research raised shares of US Ecology from a "sell" rating to a "hold" rating in a research note on Monday, January 1st. BMO Capital Markets cut their target price on shares of US Ecology from $54.00 to $47.00 and set a "market perform" rating on the stock in a research note on Monday, October 30th. Canaccord Genuity reissued a "buy" rating and issued a $57.00 target price (down previously from $60.00) on shares of US Ecology in a research note on Monday, October 30th. Finally, BidaskClub downgraded shares of US Ecology from a "hold" rating to a "sell" rating in a research note on Wednesday, January 10th. Two equities research analysts have rated the stock with a sell rating, one has issued a hold rating and three have given a buy rating to the company's stock. The stock has an average rating of "Hold" and an average price target of $53.80.
ILLEGAL ACTIVITY NOTICE: "US Ecology (ECOL) Set to Announce Quarterly Earnings on Wednesday" was first posted by American Banking News and is the property of of American Banking News. If you are viewing this story on another site, it was illegally stolen and reposted in violation of international copyright and trademark legislation. The original version of this story can be viewed at https://www.americanbankingnews.com/2018/02/07/us-ecology-ecol-set-to-announce-quarterly-earnings-on-wednesday.html.
About US Ecology
US Ecology, Inc is a provider of environmental services to commercial and government entities. The Company offers treatment, disposal and recycling of hazardous, non-hazardous and radioactive waste, as well as a range of field and industrial services. The Company operates in two business segments: Environmental Services, and Field & Industrial Services.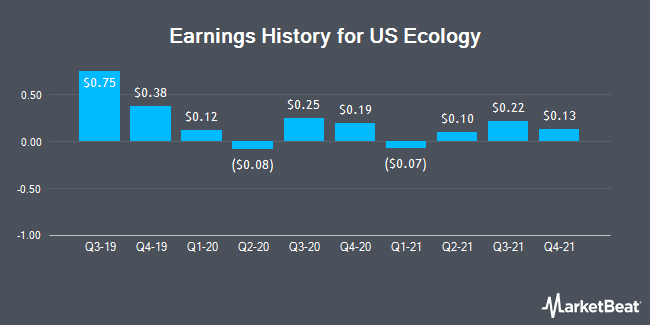 Receive News & Ratings for US Ecology Daily - Enter your email address below to receive a concise daily summary of the latest news and analysts' ratings for US Ecology and related companies with MarketBeat.com's FREE daily email newsletter.