Wall Street brokerages expect Fibrocell Science Inc (NASDAQ:FCSC) to post ($0.23) earnings per share (EPS) for the current quarter, Zacks reports. Zero analysts have issued estimates for Fibrocell Science's earnings, with the lowest EPS estimate coming in at ($0.23) and the highest estimate coming in at ($0.22). Fibrocell Science posted earnings per share of ($0.33) in the same quarter last year, which would indicate a positive year over year growth rate of 30.3%. The business is expected to issue its next earnings results on Thursday, March 8th.
According to Zacks, analysts expect that Fibrocell Science will report full year earnings of ($1.63) per share for the current fiscal year. For the next financial year, analysts forecast that the business will report earnings of ($0.87) per share, with EPS estimates ranging from ($1.02) to ($0.71). Zacks Investment Research's EPS calculations are an average based on a survey of sell-side research analysts that cover Fibrocell Science.
Fibrocell Science (NASDAQ:FCSC) last released its quarterly earnings data on Monday, November 13th. The company reported ($0.34) EPS for the quarter, beating the Thomson Reuters' consensus estimate of ($0.41) by $0.07.
FCSC has been the topic of a number of recent analyst reports. HC Wainwright set a $6.00 price target on shares of Fibrocell Science and gave the stock a "buy" rating in a report on Tuesday, January 30th.
Zacks Investment Research
raised shares of Fibrocell Science from a "hold" rating to a "buy" rating and set a $1.00 price target on the stock in a report on Thursday, January 18th. One equities research analyst has rated the stock with a sell rating, one has assigned a hold rating and three have assigned a buy rating to the stock. The company currently has a consensus rating of "Hold" and an average price target of $3.94.
Shares of Fibrocell Science (NASDAQ FCSC) traded up $0.02 during trading on Wednesday, hitting $0.71. 224,577 shares of the stock were exchanged, compared to its average volume of 951,114. Fibrocell Science has a 52-week low of $0.61 and a 52-week high of $4.64. The stock has a market capitalization of $17.09, a P/E ratio of -0.38 and a beta of 0.38.
In other news, major shareholder Randal J. Kirk purchased 2,727,273 shares of the stock in a transaction dated Monday, December 11th. The shares were purchased at an average cost of $0.77 per share, with a total value of $2,100,000.21. The transaction was disclosed in a filing with the Securities & Exchange Commission, which is available at this link. Corporate insiders own 2.10% of the company's stock.
Several institutional investors have recently made changes to their positions in the company. Third Security LLC lifted its holdings in shares of Fibrocell Science by 49.2% in the fourth quarter. Third Security LLC now owns 8,267,413 shares of the company's stock worth $5,292,000 after buying an additional 2,727,273 shares in the last quarter. Pura Vida Investments LLC purchased a new stake in shares of Fibrocell Science in the third quarter worth about $909,000. FNY Partners Fund LP bought a new position in shares of Fibrocell Science in the fourth quarter worth approximately $129,000. Finally, Parametric Portfolio Associates LLC increased its position in shares of Fibrocell Science by 264.0% in the second quarter. Parametric Portfolio Associates LLC now owns 48,259 shares of the company's stock worth $194,000 after purchasing an additional 35,000 shares during the last quarter. 32.46% of the stock is currently owned by hedge funds and other institutional investors.
COPYRIGHT VIOLATION NOTICE: "Zacks: Brokerages Anticipate Fibrocell Science Inc (FCSC) Will Post Earnings of -$0.23 Per Share" was first published by American Banking News and is the sole property of of American Banking News. If you are reading this article on another domain, it was illegally copied and reposted in violation of U.S. & international trademark & copyright legislation. The correct version of this article can be accessed at https://www.americanbankingnews.com/2018/02/07/zacks-brokerages-anticipate-fibrocell-science-inc-fcsc-will-post-earnings-of-0-23-per-share.html.
About Fibrocell Science
Fibrocell Science, Inc is an autologous cell and gene therapy company. The Company is focused on discovering and developing localized therapies for diseases affecting the skin, connective tissue and joints. Its product candidate, azficel-T, is in development to treat patients suffering from vocal cord scarring that is either idiopathic or age-related.
Get a free copy of the Zacks research report on Fibrocell Science (FCSC)
For more information about research offerings from Zacks Investment Research, visit Zacks.com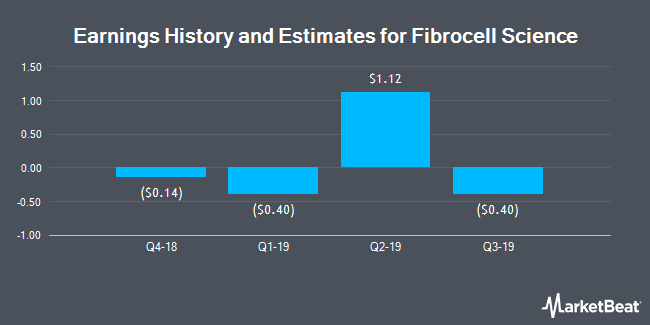 Receive News & Ratings for Fibrocell Science Daily - Enter your email address below to receive a concise daily summary of the latest news and analysts' ratings for Fibrocell Science and related companies with MarketBeat.com's FREE daily email newsletter.