EnerSys (NYSE:ENS) announced a quarterly dividend on Thursday, February 8th, Wall Street Journal reports. Investors of record on Friday, March 16th will be paid a dividend of 0.175 per share by the industrial products company on Friday, March 30th. This represents a $0.70 annualized dividend and a yield of 0.99%. The ex-dividend date of this dividend is Thursday, March 15th.
EnerSys has raised its dividend by an average of 2.5% per year over the last three years. EnerSys has a payout ratio of 15.3% meaning its dividend is sufficiently covered by earnings. Equities analysts expect EnerSys to earn $5.10 per share next year, which means the company should continue to be able to cover its $0.70 annual dividend with an expected future payout ratio of 13.7%.
Shares of EnerSys (NYSE:ENS) traded up $4.20 during mid-day trading on Thursday, reaching $70.68. 754,402 shares of the company traded hands, compared to its average volume of 270,317. EnerSys has a one year low of $61.33 and a one year high of $84.74. The stock has a market cap of $3,120.00, a P/E ratio of 19.54, a price-to-earnings-growth ratio of 2.41 and a beta of 1.60. The company has a quick ratio of 2.49, a current ratio of 3.43 and a debt-to-equity ratio of 0.64.
EnerSys (NYSE:ENS) last announced its quarterly earnings data on Wednesday, February 7th. The industrial products company reported $1.25 EPS for the quarter, beating the Thomson Reuters' consensus estimate of $1.14 by $0.11. EnerSys had a net margin of 6.64% and a return on equity of 18.17%. The company had revenue of $658.90 million for the quarter, compared to the consensus estimate of $634.75 million. During the same period in the prior year, the firm posted $1.18 EPS. EnerSys's revenue for the quarter was up 16.9% on a year-over-year basis. analysts anticipate that EnerSys will post 4.58 EPS for the current year.
Several equities analysts have issued reports on the stock. ValuEngine cut shares of EnerSys from a "buy" rating to a "hold" rating in a research note on Friday, February 2nd. Sidoti cut shares of EnerSys from a "buy" rating to a "neutral" rating and set a $79.00 target price on the stock. in a research note on Tuesday, January 23rd. CL King upgraded shares of EnerSys from a "neutral" rating to a "buy" rating in a research note on Tuesday, January 16th. Zacks Investment Research upgraded shares of EnerSys from a "sell" rating to a "hold" rating in a research note on Wednesday, November 15th. Finally, Oppenheimer reiterated a "buy" rating and issued a $77.00 price objective on shares of EnerSys in a research note on Thursday, November 9th. One equities research analyst has rated the stock with a sell rating, three have given a hold rating and two have given a buy rating to the company. The stock currently has an average rating of "Hold" and an average price target of $78.00.
In other news, insider Todd M. Sechrist sold 7,500 shares of the stock in a transaction that occurred on Monday, November 13th. The shares were sold at an average price of $66.50, for a total value of $498,750.00. Following the transaction, the insider now owns 61,182 shares in the company, valued at approximately $4,068,603. The sale was disclosed in a document filed with the Securities & Exchange Commission, which is available through the SEC website. 1.40% of the stock is owned by corporate insiders.
EnerSys declared that its board has initiated a stock buyback plan on Wednesday, November 8th that authorizes the company to buyback $100.00 million in outstanding shares. This buyback authorization authorizes the industrial products company to reacquire shares of its stock through open market purchases. Stock buyback plans are often a sign that the company's board believes its shares are undervalued.
ILLEGAL ACTIVITY NOTICE: "EnerSys (ENS) Announces Quarterly Dividend of $0.18" was originally reported by American Banking News and is the property of of American Banking News. If you are reading this article on another website, it was copied illegally and republished in violation of U.S. and international copyright legislation. The original version of this article can be accessed at https://www.americanbankingnews.com/2018/02/08/enersys-ens-announces-quarterly-dividend-of-0-18.html.
About EnerSys
EnerSys is a manufacturer, marketer and distributor of industrial batteries. The Company manufactures, markets and distributes related products, such as chargers, power equipment, outdoor cabinet enclosures and battery accessories, and provides related after-market and customer-support services for industrial batteries.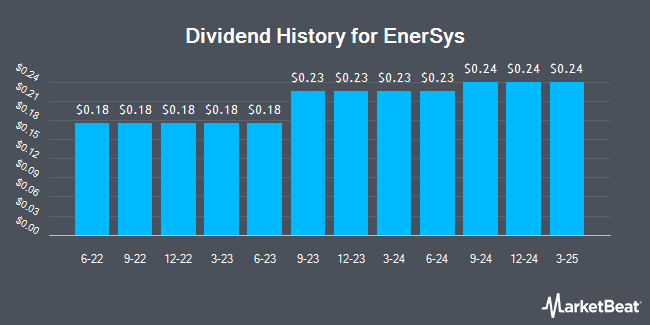 Receive News & Ratings for EnerSys Daily - Enter your email address below to receive a concise daily summary of the latest news and analysts' ratings for EnerSys and related companies with MarketBeat.com's FREE daily email newsletter.