Expedia (NASDAQ:EXPE) released its quarterly earnings data on Thursday. The online travel company reported $0.84 earnings per share for the quarter, missing the consensus estimate of $1.15 by ($0.31), Bloomberg Earnings reports. Expedia had a net margin of 4.09% and a return on equity of 10.71%. The firm had revenue of $2.32 billion during the quarter, compared to analysts' expectations of $2.35 billion. During the same period in the previous year, the business earned $1.17 earnings per share. The business's revenue for the quarter was up 10.8% on a year-over-year basis.
Shares of Expedia (NASDAQ EXPE) traded down $6.30 during trading on Thursday, reaching $123.03. The company had a trading volume of 4,770,273 shares, compared to its average volume of 1,880,000. Expedia has a 52-week low of $115.55 and a 52-week high of $161.00. The firm has a market capitalization of $18,760.00, a PE ratio of 48.63, a P/E/G ratio of 1.71 and a beta of 0.89. The company has a quick ratio of 0.72, a current ratio of 0.72 and a debt-to-equity ratio of 0.60.
The company also recently announced a quarterly dividend, which will be paid on Wednesday, March 28th. Investors of record on Thursday, March 8th will be issued a $0.30 dividend. This represents a $1.20 dividend on an annualized basis and a yield of 0.98%. Expedia's payout ratio is currently 47.43%.
Several equities analysts recently weighed in on the company.
Zacks Investment Research
downgraded Expedia from a "buy" rating to a "hold" rating in a research note on Friday, February 2nd. Cowen set a $135.00 price objective on Expedia and gave the company a "buy" rating in a research note on Sunday, October 29th. KeyCorp reaffirmed a "buy" rating and issued a $178.00 price objective on shares of Expedia in a research note on Tuesday, October 17th. JPMorgan Chase & Co. dropped their price objective on Expedia from $153.00 to $129.00 and set a "neutral" rating for the company in a research note on Monday, October 30th. Finally, SunTrust Banks reaffirmed a "buy" rating and issued a $190.00 price objective on shares of Expedia in a research note on Monday, October 23rd. Nine research analysts have rated the stock with a hold rating and twenty-two have given a buy rating to the stock. The stock has an average rating of "Buy" and a consensus price target of $158.62.
In related news, Director Dara Khosrowshahi sold 150,000 shares of Expedia stock in a transaction on Wednesday, November 22nd. The stock was sold at an average price of $125.00, for a total value of $18,750,000.00. Following the transaction, the director now owns 522,348 shares in the company, valued at $65,293,500. The sale was disclosed in a legal filing with the Securities & Exchange Commission, which is available through this hyperlink. Also, insider Lance A. Soliday sold 2,401 shares of Expedia stock in a transaction on Thursday, December 21st. The shares were sold at an average price of $120.37, for a total value of $289,008.37. Following the completion of the transaction, the insider now owns 5,744 shares in the company, valued at approximately $691,405.28. The disclosure for this sale can be found here. 20.95% of the stock is currently owned by company insiders.
TRADEMARK VIOLATION WARNING: This piece was first posted by American Banking News and is the property of of American Banking News. If you are accessing this piece on another website, it was copied illegally and reposted in violation of international trademark and copyright laws. The correct version of this piece can be viewed at https://www.americanbankingnews.com/2018/02/08/expedia-expe-releases-earnings-results-misses-estimates-by-0-31-eps.html.
Expedia Company Profile
Expedia, Inc is an online travel company. The Company operates through four segments: Core Online Travel Agencies (Core OTA), trivago, Egencia and HomeAway. The Company's Core OTA segment provides a range of travel and advertising services to its customers across the world, through a range of brands, including Expedia.com and Hotels.com in the United States, and localized Expedia and Hotels.com Websites throughout the world, Orbitz.com, Expedia Affiliate Network, Hotwire.com, Travelocity, Wotif Group, CarRentals.com and Classic Vacations.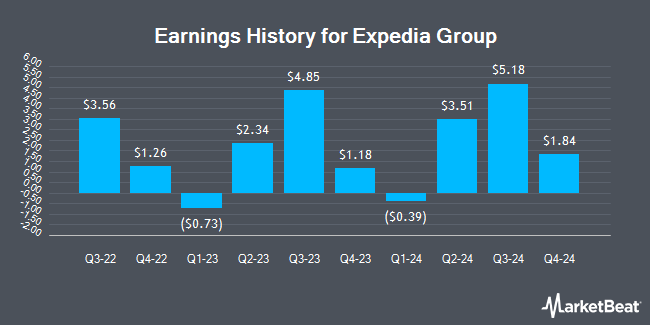 Receive News & Ratings for Expedia Daily - Enter your email address below to receive a concise daily summary of the latest news and analysts' ratings for Expedia and related companies with MarketBeat.com's FREE daily email newsletter.