FireEye (NASDAQ:FEYE) issued its earnings results on Thursday. The information security company reported $0.01 earnings per share for the quarter, beating the Zacks' consensus estimate of ($0.01) by $0.02, Bloomberg Earnings reports. FireEye had a negative return on equity of 23.71% and a negative net margin of 39.29%. The firm had revenue of $202.30 million for the quarter, compared to analysts' expectations of $193.74 million. During the same quarter last year, the firm earned ($0.03) earnings per share. The firm's revenue for the quarter was up 9.5% compared to the same quarter last year. FireEye updated its Q1 guidance to ($0.03-0.06) EPS and its FY18 guidance to $0.00-0.04 EPS.
Shares of FireEye (NASDAQ:FEYE) traded down $0.05 during midday trading on Thursday, hitting $14.12. The stock had a trading volume of 7,588,143 shares, compared to its average volume of 3,010,000. FireEye has a twelve month low of $10.35 and a twelve month high of $18.00. The stock has a market capitalization of $2,610.00, a price-to-earnings ratio of -8.51 and a beta of 0.57. The company has a debt-to-equity ratio of 1.00, a quick ratio of 1.98 and a current ratio of 1.99.
In other news, Director Ronald E. F. Codd sold 6,767 shares of FireEye stock in a transaction dated Thursday, November 16th. The stock was sold at an average price of $13.57, for a total transaction of $91,828.19. Following the sale, the director now directly owns 7,099 shares of the company's stock, valued at $96,333.43. The sale was disclosed in a filing with the SEC, which can be accessed through this hyperlink. 2.40% of the stock is currently owned by insiders.
A hedge fund recently raised its stake in FireEye stock. The Manufacturers Life Insurance Company boosted its position in FireEye Inc (NASDAQ:FEYE) by 30.0% in the 2nd quarter, according to the company in its most recent Form 13F filing with the Securities & Exchange Commission. The fund owned 6,623 shares of the information security company's stock after buying an additional 1,528 shares during the quarter. The Manufacturers Life Insurance Company 's holdings in FireEye were worth $101,000 at the end of the most recent quarter. 68.18% of the stock is currently owned by institutional investors and hedge funds.
FEYE has been the topic of a number of research analyst reports. Northland Securities set a $22.00 target price on FireEye and gave the company a "buy" rating in a report on Thursday, October 12th. Cowen reiterated a "hold" rating and issued a $15.00 target price on shares of FireEye in a report on Thursday, October 12th. Evercore ISI set a $20.00 target price on FireEye and gave the company a "buy" rating in a report on Sunday, October 15th. Oppenheimer reiterated a "buy" rating and issued a $23.00 target price on shares of FireEye in a report on Thursday, October 19th. Finally, KeyCorp reiterated a "hold" rating on shares of FireEye in a report on Friday, October 27th. Two investment analysts have rated the stock with a sell rating, thirteen have assigned a hold rating, eleven have issued a buy rating and one has issued a strong buy rating to the company. FireEye has an average rating of "Hold" and a consensus target price of $17.96.
TRADEMARK VIOLATION WARNING: This report was first posted by American Banking News and is the property of of American Banking News. If you are reading this report on another publication, it was illegally copied and reposted in violation of international trademark and copyright law. The original version of this report can be read at https://www.americanbankingnews.com/2018/02/08/fireeye-feye-issues-earnings-results-beats-estimates-by-0-02-eps.html.
About FireEye
FireEye, Inc provides intelligence-based cybersecurity solutions that allow organizations to prepare for, prevent, respond to and remediate cyber-attacks. The Company offers various products, such as Threat Detection and Prevention Solutions, which include network security products (NX and Multi-vector Virtual Execution (MVX) Compute Node Series), e-mail security products (EX Series and e-mail threat prevention cloud (ETP), endpoint security products (HX Series) and content security products (FX Series); security management and orchestration products, which include Central Management System and FireEye Security Orchestrator, and forensics and investigation products, which include Threat Analytics Platform (TAP), Malware Analysis (AX Series) and Enterprise Forensics (PX Series and IA Series).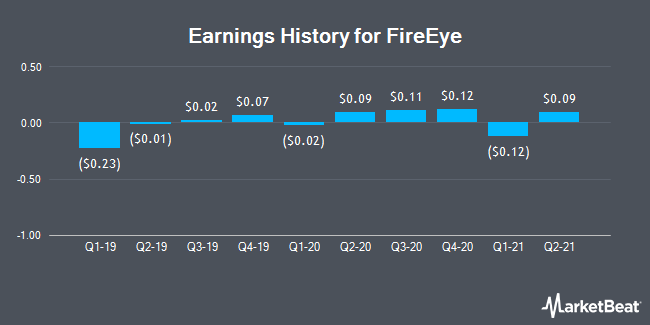 Receive News & Ratings for FireEye Daily - Enter your email address below to receive a concise daily summary of the latest news and analysts' ratings for FireEye and related companies with MarketBeat.com's FREE daily email newsletter.