Knowles (NYSE:KN) issued its earnings results on Wednesday. The communications equipment provider reported $0.40 EPS for the quarter, topping the Thomson Reuters' consensus estimate of $0.33 by $0.07, Briefing.com reports. The firm had revenue of $215.50 million during the quarter, compared to the consensus estimate of $221.96 million. Knowles had a return on equity of 6.13% and a net margin of 0.25%. The business's quarterly revenue was up 1.2% on a year-over-year basis. During the same quarter in the previous year, the firm earned $0.32 earnings per share. Knowles updated its Q1 guidance to $0.10-0.14 EPS.
Shares of Knowles (KN) traded down $0.35 during mid-day trading on Thursday, reaching $13.98. The company had a trading volume of 626,233 shares, compared to its average volume of 813,011. Knowles has a 1-year low of $13.45 and a 1-year high of $19.90. The company has a market capitalization of $1,271.35, a PE ratio of 716.86, a PEG ratio of 1.92 and a beta of 0.78. The company has a debt-to-equity ratio of 0.29, a current ratio of 2.39 and a quick ratio of 1.43.
KN has been the subject of several recent research reports. Zacks Investment Research raised Knowles from a "hold" rating to a "buy" rating and set a $17.00 price objective for the company in a research note on Tuesday, October 24th. Robert W. Baird reaffirmed a "buy" rating and issued a $20.00 price objective on shares of Knowles in a research note on Friday, October 27th. Lake Street Capital reaffirmed a "buy" rating and issued a $20.00 price objective on shares of Knowles in a research note on Monday, November 20th. Piper Jaffray Companies initiated coverage on Knowles in a research note on Wednesday, December 20th. They issued a "neutral" rating and a $15.50 price objective for the company. Finally, Craig Hallum lowered their price objective on Knowles from $20.00 to $17.00 and set a "buy" rating for the company in a research note on Thursday. Two investment analysts have rated the stock with a sell rating, one has assigned a hold rating and four have issued a buy rating to the stock. Knowles has an average rating of "Hold" and a consensus target price of $18.08.
ILLEGAL ACTIVITY WARNING: This article was first published by American Banking News and is owned by of American Banking News. If you are reading this article on another website, it was illegally stolen and reposted in violation of international trademark & copyright laws. The legal version of this article can be accessed at https://www.americanbankingnews.com/2018/02/08/knowles-kn-announces-quarterly-earnings-results.html.
About Knowles
Knowles Corporation is a global supplier of micro-acoustic, audio processing and specialty component solutions, serving the mobile consumer electronics, communications, medical, military, aerospace and industrial markets. The Company operates through two segments: Mobile Consumer Electronics (MCE) and Specialty Components (SC).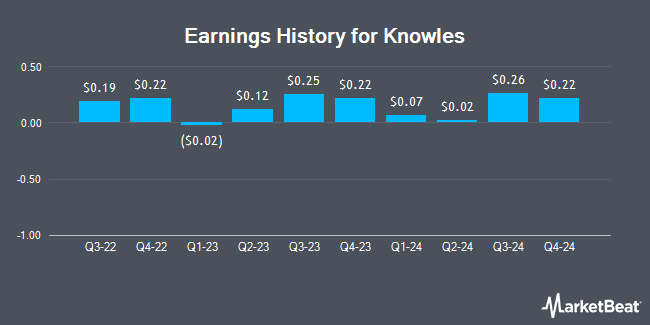 Receive News & Ratings for Knowles Daily - Enter your email address below to receive a concise daily summary of the latest news and analysts' ratings for Knowles and related companies with MarketBeat.com's FREE daily email newsletter.