NetEase Inc (NASDAQ:NTES) declared a quarterly dividend on Wednesday, February 7th, RTT News reports. Stockholders of record on Friday, February 23rd will be paid a dividend of 0.38 per share by the technology company on Friday, March 2nd. This represents a $1.52 dividend on an annualized basis and a dividend yield of 0.49%.
Shares of NetEase (NTES) traded down $4.84 during trading hours on Wednesday, hitting $309.00. The stock had a trading volume of 1,709,028 shares, compared to its average volume of 1,320,000. The firm has a market cap of $40,820.00, a P/E ratio of 19.64, a price-to-earnings-growth ratio of 1.60 and a beta of 0.75. NetEase has a 12 month low of $252.54 and a 12 month high of $377.64.
NetEase (NASDAQ:NTES) last announced its quarterly earnings data on Wednesday, November 15th. The technology company reported $2.86 earnings per share (EPS) for the quarter, beating analysts' consensus estimates of $2.66 by $0.20. The company had revenue of $1.88 billion for the quarter, compared to the consensus estimate of $1.84 billion. NetEase had a return on equity of 31.84% and a net margin of 25.34%. equities analysts predict that NetEase will post 12.55 EPS for the current fiscal year.
A number of brokerages have recently issued reports on NTES.
Vetr
downgraded NetEase from a "buy" rating to a "hold" rating and set a $323.68 price objective on the stock. in a research note on Monday, November 20th. Nomura raised NetEase from a "neutral" rating to a "buy" rating and boosted their price objective for the company from $297.00 to $428.00 in a research note on Friday, November 17th. Deutsche Bank set a $380.00 price objective on NetEase and gave the company a "buy" rating in a research note on Tuesday, January 2nd. Barclays set a $315.00 price objective on NetEase and gave the company an "equal weight" rating in a research note on Tuesday, January 2nd. Finally,
Zacks Investment Research
downgraded NetEase from a "hold" rating to a "sell" rating in a research note on Wednesday, November 22nd. Three analysts have rated the stock with a sell rating, seven have assigned a hold rating, seven have given a buy rating and one has given a strong buy rating to the company. NetEase has a consensus rating of "Hold" and an average target price of $349.14.
NetEase declared that its Board of Directors has initiated a share repurchase plan on Wednesday, November 15th that allows the company to repurchase $1.00 billion in outstanding shares. This repurchase authorization allows the technology company to purchase shares of its stock through open market purchases. Shares repurchase plans are generally a sign that the company's board of directors believes its shares are undervalued.
TRADEMARK VIOLATION WARNING: This piece of content was first posted by American Banking News and is owned by of American Banking News. If you are accessing this piece of content on another site, it was illegally copied and reposted in violation of U.S. and international trademark and copyright legislation. The correct version of this piece of content can be accessed at https://www.americanbankingnews.com/2018/02/08/netease-inc-to-issue-quarterly-dividend-of-0-38-ntes.html.
About NetEase
NetEase, Inc (NetEase) is a technology company. The Company operates an interactive online community in China and is a provider of Chinese language content and services through its online games, Internet media, e-mail, e-commerce and other businesses. The Company operates through three segments: Online Game Services; Advertising Services, and E-mail, E-commerce and Others.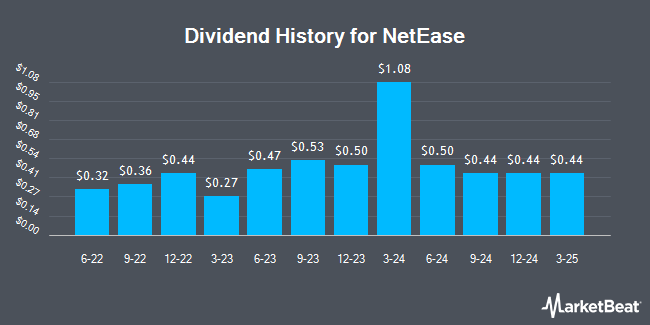 Receive News & Ratings for NetEase Daily - Enter your email address below to receive a concise daily summary of the latest news and analysts' ratings for NetEase and related companies with MarketBeat.com's FREE daily email newsletter.